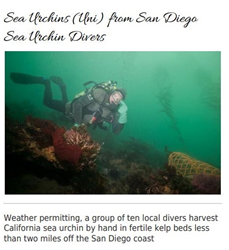 "It's not just about what fish to avoid, what fish to eat. People want to know where their food is coming from."
SAN DIEGO, Calif. (PRWEB) June 19, 2014
Catalina Offshore Products announced today that, through its new partnership with Trace and Trust, it is providing chef and restaurant managers with an easy-to-use technology and marketing platform that allows member restaurants to not only identify the origins of the seafood they are serving but also to share with diners the stories of the fishermen behind it. Trace and Trust® welcomed San Diego's only exporter of sea urchin and one of Southern California's premier seafood purveyors as its first distributor member in conjunction with the program's West Coast launch this month.
Over the past two years, Trace and Trust has built a community of restaurants and distributors, all dedicated to serving the highest quality food as well as celebrating the people who raised the animals, caught the fish and harvested the crops. Within this community, every meal has a story.
As the seafood supply chain continues to transform and diners continue to expect a diversity of quality, local and sustainably-sourced ingredients, this new partnership between Trace and Trust and Catalina Offshore Products empowers restaurants to share these diverse stories with guests.
Distributor members provide chefs with the highest quality ingredients. Trace and Trust then makes it easy for restaurants to share with their guests the stories and pictures of the fishermen and farmers behind each meal. Through the Trace and Trust platform, restaurants can find photos, stories, producer information and customer cards all linked to the people responsible for each ingredient. On the Trace and Trust website diners can see and learn more about the vessels and farms responsible for their food and easily find deliveries of their favorite ingredients in their area.
Kevin Thiele, Executive Chef of One Bellevue at The Hotel Viking in Newport, R.I., has been involved with Trace and Trust since its earliest days. "As a result of Trace and Trust, our dishes tell a story, enlighten guest experience, create return for our business, and help us educate staff, excite our chefs and empower us as a restaurant to be in the forefront of this fast moving industry," said Thiele.
"There is a huge need for this Trace and Trust program," said Catalina Offshore Products CEO Dave Rudie. "It's not just about what fish to avoid, what fish to eat. People want to know where their food is coming from."
Jeff Jackson, Executive Chef at The Lodge at Torrey Pines in La Jolla, Calif., agreed. "The ability to trace a fish all the way back to the fisherman, fishing vessel or farm that harvested it is a win-win for everyone."
To start, Catalina Offshore Products will work in conjunction with Specialty Produce, a local food service and retail fresh produce supplier. Catalina Offshore Products currently offers delivery via Specialty Produce to San Diego restaurants that combine their seafood order with their produce order. Restaurants placing orders of any seafood item identified as a Trace and Trust product – such as California sea urchin, king salmon, and Baja Seas Baja Hiramasa (farmed yellowtail) – will be able to download information and pictures on the vessel or farm, as well as customer cards, QR codes and staff talking points, as the seafood is being delivered.
"Every meal has a story and we are honored that Catalina Offshore Products is our first seafood distributor member on the West Coast," said Trace and Trust CEO Michael Clayton. "We look forward to working together to help restaurants celebrate the wonderfully diverse stories of the people behind this food."
For more information on Catalina Offshore Products, call 619-297-9797 or visit catalinaop.com. For more information on Trace and Trust, call 530-554-1944 or visit traceandtrust.com.
About Catalina Offshore Products
Founded in 1977, Catalina Offshore Products was once exclusively a sea urchin/uni wholesaler in both domestic sales and exports to Asia. Today Catalina Offshore Products is one of Southern California's premier seafood purveyors and San Diego's only exporter of sea urchins. As a primary receiver of fresh fish and shellfish, the company specializes mainly in wild and farmed species found along the California coast and Baja. Nearly 75 percent of the seafood Catalina Offshore Products sells is sustainable and much of it is sushi grade. In 2012, Catalina Offshore Products expanded by opening its Seafood Education and Nutrition Center featuring a walk-in fish market. For more information, visit catalinaop.com.
About Trace and Trust
Trace and Trust is based in Davis, California. Since forming in 2011, Trace and Trust initially built a New England community of food professionals dedicated to celebrating the farmers and fishermen behind the food. Using the Trace and Trust platform, front-of-the-house managers can quickly access, adapt, print and use training material and marketing collateral tied directly to the farmers and fishermen responsible for the food. Trace and Trust members now include restaurants, distributors, fishermen, farmers and ranchers in Rhode Island, Massachusetts, North Carolina, and Southern California, as well as aquaculture farms in New England, California and Baja. It also partners with related associations, such as Seafood for the Future and the Fort Bragg Groundfish Association. For more information, visit traceandtrust.com.
###