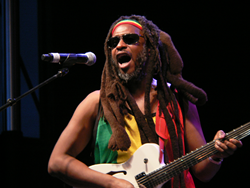 Fairfield, CT (PRWEB) June 18, 2014
Fairfield Theatre Company hosts Britain's greatest reggae band, Steel Pulse at the Klein Auditorium at 8 p.m. Sunday, July 13.
Formed in 1975 in Birmingham England, Steel Pulse was founded by schoolmates David "Dred's" Hinds (singer/guitarist), Basil Gabbidon (guitar) and Ronnie "Stepper" McQueen (bass), whose music was inspired by roots legends like the Wailers, Burning Spear and other prominent Jamaican artists.
Having difficulty initially finding live gigs, because club owners were reluctant to give them a platform for their "subversive" Rastafarian politics, Steel Pulse looked to new venues and was lucky to be around at the beginning of the punk movement. Soon, with their spiritual kinship and protest reggae, they kept the spirit alive and developed a theatrical stage show that leavened their social commentary with satirical humor and mocked traditional British archetypes.
Earning a solid reputation for themselves, Steel Pulse soon found themselves playing all around Britain and opening for some of punk music's biggest names, including the Clash, the Stranglers, Generation X, the Police and XTC, all the while building a broad-based audience in the process.
After winning the 1986 Grammy for Best Reggae Performance, Steel Pulse was on their way to stardom and never looked back. After receiving several more Grammy Nominations in `88, `92 and `97, Steel Pulse became the first reggae band to perform at a presidential inauguration. Since then, they've continued to play sold out performances all over the world, playing their authentic roots reggae with touches of jazz and Latin flare.
Steel Pulse returns to Bridgeport, for the first time since their 2012 performance at The Gathering of the Vibes, to jam out The Klein Auditorium. They come promoting a positive message through their spiritually uplifting music.
Steel Pulse
Date: Sunday, July 13
Doors: 7 p.m.
Show: 8 p.m.
Venue: The Klein Auditorium 910 Fairfield Ave., Bridgeport, CT 06605
Tickets: $30 Adv. $35 Day of. Members Discount $5
Buy tickets: Box Office: 203.259.1036 or reserve online: http://www.fairfieldtheatre.org
<br>About the company:<br>Fairfield Theatre Company is a highly-acclaimed non-profit performing arts organization located in the heart of downtown Fairfield, Connecticut. FTC presents nearly 250 performances and concerts each year featuring outstanding national talent on FTC's StageOne in Fairfield, The Klein Auditorium in Bridgeport, and the Norwalk Concert Hall in Norwalk. FTC's intimate 200-seat StageOne concert venue is widely recognized as being one of the best places to see a live performance in the region. FTC is dedicated to providing the highest-quality arts, live entertainment and educational experiences to the communities it serves.