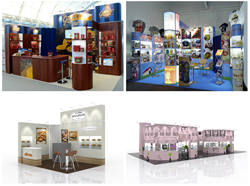 Poole, Dorset (PRWEB UK) 19 June 2014
Nowadays, with online retailing becoming more popular than ever and costs of renting a shop space continuing to soar, business landlords are now under more pressure than ever to persuade retailers to sign new leases.
Introduced by cities across the world such as Tokyo, London, Los Angeles and New York City, the concept of a pop up store allows the retailer to use a temporary space to market their products, gaining recognition and generating a buzz for the company wherever they go.
Another reason that swayed retailers to go with this new solution is the insignificant difference in cost: launching pop-up store costs 80% less than renting out a traditional retail store.
Big brands such as Ebay, Adidas, Kate Spade and Lacoste are just some of the big names that have followed the pop-up shop trend and have taken their creativity one step further.
A great example of a system that can be used by retailers to set up their very own pop-up store is The Prestige System, which is a modular and portable solution that allows clients to re-configure their stand for different retail spaces.
The system is also ideal for all exhibitions, conferences and live marketing events.
Quadrant2Design, the sole UK suppliers of Prestige based in Poole in Dorset, have adapted the system into the World's first bespoke Pop-up Shop System.
The Swiss-designed Prestige Events System is constructed from lightweight, but extremely strong, aluminium pop-up frames which are ideal for easy transportation, as pop-up shops travel around frequently. This structure bestows on Prestige the twin benefits of easy and rapid construction, without any tools or special knowledge.
Graphics magnetise to the erected framework in seconds, rapidly forming stunning, and seamless-effect graphic walling, with the option of integrated, brightly lit product showcases and 'floating-effect' digital screens.
So with Prestige 'Pop-up' Shop, you have a solution that will allow you to quickly cover unsightly shop walling with stunning graphics, branding, showcases and digital screens.
Quadrant2Design retain full control of retail projects with all key functions in-house, including: CAD design, graphic design, large format graphics production, project management, manufacture and Worldwide installations.
Quadrant2Design prebuild every single exhibition stand or popup shop in their Poole factory.
All design ideas, visuals and design proposals are undertaken by Quadrant2Design, free of charge and without obligation. To see more of their designs visit: http://www.prestige-system.com/ Or alternatively, phone +44 (0)1202 650 333.