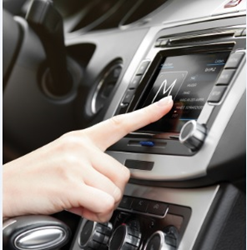 MyScript offers a superior HMI experience by enabling control of in-vehicle systems through handwriting, a preferred input method for many drivers.
Nantes France and Berlin, Germany (PRWEB) June 25, 2014
MyScript will demonstrate its industry-leading handwriting recognition technology at we.CONECT Car HMi Concepts and Systems 2014 to be held June 26 to 27 in Berlin, Germany.
MyScript technology is utilized in the in-vehicle infotainment systems of leading automotive manufacturers and offers a natural human machine interface (HMI). With MyScript technology, drivers can interact with their vehicle consoles using handwriting and related gestures. Drivers can write characters or numerals or simply gesture with their fingertips on a touch pad or screen to quickly and discreetly accomplish tasks such as selecting a destination, making a telephone call or noting information. When vehicles are parked, drivers and passengers can use handwriting for more complex tasks such as capturing notes, browsing the internet and searching media libraries. MyScript also supports integration with geographical databases for navigation systems and text-to-speech feedback for a unique multi-modal experience.
MyScript technology is based on natural handwritten input which allows an intuitive interface and a more positive user experience. Studies have shown that handwriting is an effective and safe way for drivers to interact with infotainment consoles with minimum driver distraction. Handwriting is also highly accurate and independent from the acoustic environment. MyScript technology is available for 97 languages, offering a global HMI experience.
"Today's drivers expect a great deal from their vehicles, including the kind of advanced technology and innovative features they enjoy in the home and workplace," said Olivier Cros, Automotive Business Development Manager, MyScript. "MyScript helps manufacturers and aftermarket vendors meet this voracious consumer demand. As a pioneer in the field, MyScript offers a superior HMI experience by enabling control of in-vehicle systems through handwriting, a preferred input method for many drivers."
MyScript will demonstrate its technology at the Car HMi Concepts and Systems 2014 show. To learn more, visit MyScript during the event at the Ramada Hotel Berlin.
About MyScript®
MyScript is the acknowledged market leader in accurate, high-performance handwriting recognition and digital ink management technology. MyScript technology combines digital ink management with easy searching of handwritten text, as well as the accurate recognition of complex mathematical equations, geometric shapes and music notation. MyScript solutions are available on all leading desktop and mobile operating systems including Microsoft® Windows®, Apple® Mac OS®, Linux®, iOS® and Android™ as well as on embedded platforms. With nearly 100 languages supported and a truly international team, MyScript serves customers worldwide from its headquarters in Nantes, France and regional offices located in China, Japan, Korea, the U.S.and beyond. For further information, please visit http://myscript.com.
#########
MyScript is a registered trademark, registered in the US and other countries. All the other trademarks are the property of their respective owners.