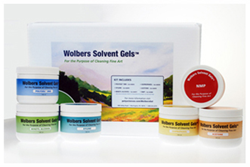 Warrington, PA (PRWEB) June 19, 2014
Polysciences, Inc., through a collaborative partnership with ProTech-Art LLC (formed by professors Richard Wolbers and Anthony Lagalante), has developed a series of Solvent Gels for cleaning fine art. Wolbers Solvent Gels™ are available in a convenient, ready to use kit and include six formulations that aid conservators in the cleaning of difficult or intractable fine art coatings. The gels range in polarity, from low (PolySolTM D60) to high (NMP). The standard kit consists of 100ml of the following solvent gels: PolySol™ D60, an aliphatic hydrocarbon similar to ShellSol™ D60 or Exxsol™ D60, Xylene, Benzyl Alcohol, Isopropanol, Acetone, and NMP (N-Methyl-2-pyrrolidone). Wolbers Solvent Gels™ are also available in single jars, mix and match kits, and bulk quantities.
In addition to solvents, the gels incorporate both a polymer and a surfactant. The polymer increases the viscosity of the solvent, which allows for control of the application (especially on vertical surfaces), spreading and penetration of the solvent into the art structure. The surfactant allows for a wide range of solvents to be gelled and also acts to solubilize and disperse soils that are not easily dissolved in solvent alone. The gels recently debuted at the American Institute of Conservation (AIC) Annual Meeting in San Francisco to an enthusiastic audience of art conservators.
For more information about Wolbers Solvent Gels™ & Kits as well as other specialty chemicals and custom formulation services from Polysciences, please visit: http://www.polysciences.com.
About Polysciences, Inc:
Richard Wolbers is an Associate Professor and Coordinator of Science and Adjunct Paintings Conservator at the University of Delaware. Professor Wolbers received a B.S. in biochemistry from the University of California, San Diego, in 1971. He also received an M.F.A. in painting from the same institution 1977. In 1984, he earned an M.S. degree in art conservation from the Winterthur/University of Delaware Program in Art Conservation (WUDPAC). His research interests include work in developing cleaning systems for fine art materials as well as microscopically applied techniques for the characterization of paint binding materials. He has collaborated on research projects with The Getty Conservation Institute, Columbia University, and ICCROM in Rome. He has conducted workshops on his cleaning methods in Australia, England, Canada, Spain, Portugal, France, Germany, Mexico, Switzerland, Norway, Sweden, Italy and various locations throughout the United States.
Polysciences Inc. was founded in 1961 and specializes in the development and manufacture of high purity chemicals and reagents for laboratory research, histology, healthcare diagnostics and medical devices. Materials developed for the biomedical and pharmaceutical industries have helped bring about countless innovations in healthcare as well as in high performance adhesives and personal care products. More information about Polysciences, Inc. can be found at polysciences.com