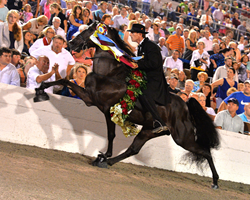 Jackson, Tenn. (PRWEB) June 20, 2014
The 27th Annual Charity Horse Show will benefit Youth Town. Scheduled for 6 p.m. on Saturday, July 12 — rain or shine, it will be held at Pugh Bourne Park in Jackson. (Those using GPS to travel may want to enter zip code 38362 for directions.) Admission is free, and the theme of the event is kicking addiction.
This family-oriented event will include an exhibition by Tennessee Walking Horse World Grand Champion 2013 I Am Jose, owned by Billy and Debbie Woods. Volunteers from the Mid-South Horse Show Association will host an extensive silent auction, pony rides, petting zoo, barbecue, grilled burgers and snow cones. Mike Roby of Youth Town will provide banjo picking throughout the evening.
Youth Town is accredited to provide residential treatment services, services for substance use conditions, and wilderness and therapeutic outdoor services to young men. For more information about Youth Town's mission, visit http://www.youthtown.net or contact Mike Roby, director of development, at 731-234-5642 or mroby(at)youthtown(dot)net.