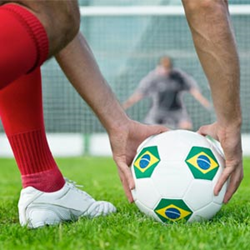 For the 2014 World Cup, the expert psychics see Brazil winning, with Spain, Argentina and Germany all close behind.
Langhorne, PA (PRWEB) June 19, 2014
It doesn't happen every time. Getting the same predictions from professional psychics and seasoned sports commentators on important sporting events is rarer than you might think. But not for the 2014 World Cup! This time, based on a survey of 30 psychics at the popular psychic service, Hollywood Psychics, it looks like the intuitive and statistics-based forecasts are pretty well aligned.
When ESPN FC asked 18 soccer experts to weigh in on the outcome of the 2014 World Cup, a majority predicted a win for Brazil, with Spain close behind. They also predicted with a very large margin that Lionel Messi of Argentina would win the Golden Boot.
Addressing the very same questions, the surveyed psychics at Hollywood Psychics gave the same answers in terms of winners, with some variation on runners-up. Using their intuition, cards, and spiritual insights, the psychics foresaw a Brazil victory, with Spain, Argentina and Germany all close seconds. The psychics also thought Messi was more likely than any other top player to win the 2014 Golden Boot, with Neymar of Brazil a very close second.
So if the experience and calculations of sports analysts coincide with the intuition and insights of professional psychics, does that mean it's safe to place your bet on their picks for the 2014 World Cup? We'll have to leave that up to the billions of people worldwide who are watching the games to decide.
****
About Hollywood Psychics:
Hollywood Psychics is an established provider of psychic readings by phone and online chat, appealing to a young professional demographic. Hollywood Psychics experts specialize in astrology, horoscopes, numerology, tarot cards, clairvoyant readings, and many other psychic disciplines. Hollywood Psychics believes in its community of authentic psychics and stands behind the authentic psychic readings they deliver to clients. Visit them online at http://www.hollywoodpsychics.com.
For more information, contact:
Maryanne Fiedler, Marketing Director
maryanne(at)hollywoodpsychics(dot)com
215-953-8568