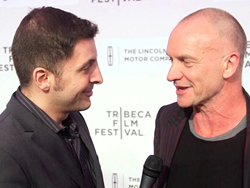 In a very short time, we have built an amazing franchise that just keeps getting stronger every month.
New York City, New York (PRWEB) June 18, 2014
Today celebrity interview web series "#InTheLab with Arthur Kade" capped a year of phenomenal growth by notching its one-millionth video view on YouTube. #InTheLab focuses on both long form and red carpet celebrity interviews, giving fans access to their favorite movie, TV, and reality stars where they most want to consume this content: via digital platforms and social media.
Arthur Kade says "#InTheLab has surpassed my wildest dreams for success. In the last year we have interviewed movie icons like Robert Redford, Daniel Craig, Lupita Nyong'o, huge music stars like Carrie Underwood, Sting, Sara Bareilles, Marc Anthony, and 50cent, sports legends such as Carmelo Anthony, Derek Jeter, and Terry Bradshaw, as well as the superstars of reality TV like The Robertson's, The Real Housewives, and Bill & Giuliana Rancic. It has been a complete joyride for me!"
#InTheLab provides celebrities with a vehicle typically unavailable to them today: in-studio, long form, 10-minute plus interviews. This type of interview format allows celebrities to share more about their shows, causes, and future projects, giving fans in-depth access to their favorite stars.
Associate Producer Madeline Giaquinto says the proof is in the numbers. "The average time spent with one of our interviews is nearly double the industry standard. Fans love our content, and they are rewarding us by staying with our videos longer, and sharing their favorite interviews via their social networks."
#InTheLab has also made quite a name for itself on the Red Carpet, having recorded over 900 interviews at over 50 events in the past year. #InTheLab is often at important celebrity supported charity events such as TJ Martell Foundation gala, CNN Heroes, RFK Ripple of Hope Awards, Amnesty International Benefit, the Elizabeth Glaser Pediatric Aids Foundation gala, the Garden of Dreams Foundation, and many more. "I love the pressure and opportunity that celebrity Red Carpets offer us," says Kade. "Where else can you get superstars like Tom Hanks, Leonardo DiCaprio, and Whoopi Goldberg...often at the same event?"
Due to its success on the web, the producers of #InTheLab are now in discussions with major cable networks about several possible show formats. #InTheLab Producer and Founder, Tom Molen, sees this as a natural progression for the show. "In a very short time, we have built an amazing franchise that just keeps getting stronger every month. Our access to top-tier talent and red carpets continues to expand, and we see a home for our content on television very soon."
The publicists and personalities from cable networks such as A & E, Bravo, and The Travel Channel have made #InTheLab a go-to destination when celebrities are in New York City to promote a new show, book release, or charitable cause. With its growing reputation as a reliable and warm landing spot for in-demand talent, #InTheLab is anticipating double-digit growth in bookings for the coming year.
#InTheLab is produced by MSquared Entertainment
http://msquaredentertainment.com
and can be found on YouTube at
and also on its blog
http://www.filmannex.com/InTheLab/blog_post
Inquires about the show can be sent directly to:
Tom Molen, founder:
Tom(at)msquaredentertainment(dot)com
Maddy Giaquinto, associate producer:
Madeline(at)msquaredentertainment(dot)com
Harry Garrison, production manager:
Harry(at)msquaredentertainment(dot)com