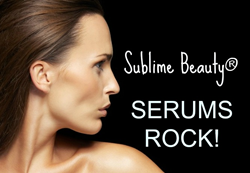 Diminish of Collagen as we age is devasting for skin.
St. Petersburg, FL (PRWEB) June 19, 2014
Sublime Beauty® says it is all about collagen in anti-aging. Collagen diminishes each year with age, by 45% at age 60.
"Collagen is the most abundant protein in our body," says Kathy Heshelow, founder of Sublime Beauty®, "and makes up about 70% of our skin when young. Diminishment with age is devastating for skin."
Anti-aging strategies should always include boosting collagen levels, says Heshelow, and Sublime Beauty® products concentrate on it. Key performing peptides include Matrixyl® and Trylagen® for this purpose, and others like Retinol are helpful to encourage new collagen.
"Less collagen means more sagging, wrinkles and thinning of skin, which is why it is important to get those levels up," Heshelow stated.
The Collagen Peptide Serum is a very popular Sublime Beauty® product, featuring Matrixyl. It is light and airy, works with other products well and boosts collagen levels. Take 20% off this week only with code Collagen20 at the webstore.
The Face Whisperer® Day cream features Trylagen (and also Argireline®, to relax wrinkles) while the Night cream has Matrixyl® to boost collagen while sleeping.
A more expensive but highly effective product is Cell Renewal | Fibroblast Serum, which is a stem cell serum that works at the cellular level to increase collagen production. The scientific serum is 25% off this week only: use coupon code STEM25 at the webstore (with free shipping.)
The Ageless line of products all include Matrixyl® and special ingredients to help skin quality and increase collagen production.
Other product such as the Luxury Antioxidant Mask and Retinol with Vitamin C are designed to help nurture collagen and skin.
"There are additional ways to protect and help skin," says Heshelow, "including Phytoceramides, sunscreen protection and good diet. But collagen stands out as a key part of the anti-aging program."
ABOUT: Sublime Beauty® is a quality skincare company that focuses on products to "Age Younger". A niche includes healthy Skin Brushes. The company webstore offers free standard shipping and a VIP Club. Products also available on Amazon.