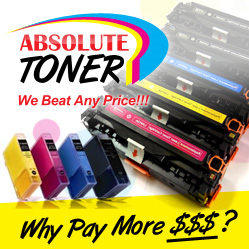 Those who have the printer in an office or do a large amount of printing every month may find that it's more convenient for them to purchase the three-pack
Toronto, Ontario (PRWEB) June 19, 2014
Absolute Toner now provides compatible toner cartridges for those who use four different HP printer models. These models include the HP LaserJet Pro MFP M127FN, HP LaserJet Pro MFP M127FW, HP LaserJet Pro MFP M125NW, and HP LaserJet Pro MFP M125RNW. All of these printers are laser printers, and as such, the toner is often quite expensive. Users will be relieved to find an affordable compatible cartridge plus the toner refills, especially those who print high volumes or who use one of these printers in their office. More information is available at http://www.absolutetoner.com/hp-toner-cartridges/1330-hp-cf283a-toner-cartridges-compatible.html.
It can often be difficult to find compatible toner for certain laser printer models, especially for newer printer models. Toner produced by original equipment manufacturer (OEM), like most of the toner cartridges manufactured by brand names, can be very costly. These compatible cartridges offer customers a good alternative. Each of the compatible cartridges can produce 1,500 pages of text at 5% page coverage.
Absolute Toner is proud to add to the list of discount printer toner cartridges the compatible for HP CF283A 83A black cartridge. A very few companies are able to offer their customers great discounts on this compatible cartridge and Absolute Toner is proud to be a part of this. Absolute Toner also stands by every product offered with their lifetime warranty and 100% satisfaction guarantee.
While customers who use their HP printer for a small amount of printing may only need to purchase one compatible toner at a time, those who have the printer in an office or do a large amount of printing every month may find that it's more convenient for them to purchase the three-pack of compatible cartridges. Doing so does save a little bit of money in both the cost of the toner and in shipping—the three-pack qualifies for Absolute Toner's free shipping to anywhere in Canada. At the current prices, the three-pack of compatible toner is only about $5 more than one original HP CF283A cartridge. That perfectly illustrates just how more economical it is to buy compatible toners.
Toner refill kits are also available for the CF283A for customers who want to refill used cartridges. While it does mean a little more work for the user, refilling toner cartridges does help cut down on wasted materials.
The compatible toners sold by Absolute Toner are fully safe for use in the four different HP laser jet printers. There is no fear of damaging the printer or with losing any print quality. In fact, these cartridges are manufactured using the same techniques as the original. The only difference is that they're created by a company that doesn't need to recoup the cost of expensive printers.
About Absolute Toner:
Based in Toronto, Absolute Toner has been providing replacement cartridges to individuals and companies for many years. These replacement cartridges match or exceed the quality of the original brand cartridges, but cost only a fraction of the price. Visit http://www.absolutetoner.com to learn more about using compatible toner in printers and to purchase products.