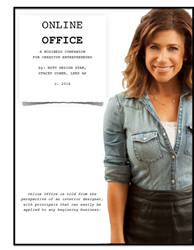 The media kit contains excerpts from the ebook, a biography, testimonials, and a FAQ section.
Los Angeles, CA (PRWEB) June 18, 2014
The new ebook from Los Angeles based interior architect and designer Stacey Cohen, "Online Office: A Business Companion for Creative Entrepreneurs," will help artists and talented creative individuals turn their business concept into a reality. It explains how to transform a business idea into a comprehensive business blueprint and handbook. It also contains practical advice for entrepreneurs who want to learn to create comfort, balance and security in their work lives while building a presence online. Cohen has developed a detailed media kit that is available now for bloggers, journalists and members of the media who are interested in more information about the ebook.
"Stereotypically, we as artistic entrepreneurs, stay focused on the creative portion of the business plan, but working through the additional components will benefit your growth by offering financial guidelines and building confidence in customer relationships," says Cohen. She wrote her ebook with the intention of helping entrepreneurs better understand when to say no, whether or not to accept solicitors or clients who ask them to work 24 hours a day, and how to balance the type of demand that comes from a digitally connected, consumer driven world. "Online Office" also goes into depth on the topics of setting up profiles and portfolios in respect to company websites, organizing directories and social media sites, and cutting edge marketing strategies. It is available for purchase at staceycoheninteriors.com and at the iTunes store.
As an active influence in the current design community, Cohen regularly joins the conversation and shares her perspective on up and coming trends. Cohen has appeared on television, in print, on radio and has been featured in many online articles. The media kit contains excerpts from the ebook, a biography, testimonials, and a FAQ section. For a copy of the media kit, or to schedule an interview, please contact Stacey(at)staceycoheninteriors(dot)com.
About Stacey Cohen
Cohen is a graduate from Parson's School of Design in New York, and from Columbia College Chicago. Her background in architecture from her time at the University of Illinois, and business training in the Entrepreneur Organization's Accelerator program has continued to shape her company's vision and best practices. Her innovative portfolio has gained her recognition from some of the top design publications and media outlets, including a season as a finalist on HGTV's "Design Star." For more information, visit http://www.staceycoheninteriors.com/. A media kit is also available upon request.
Contact:
Stacey Cohen
310-903-7168
Stacey(at)staceycoheninteriors(dot)com