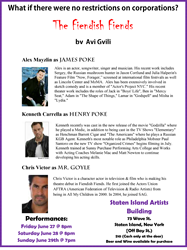 What if there were no restrictions on corporations?
Staten Island, New York (PRWEB) June 19, 2014
What if corporations were not regulated? What if they could pursue unfettered profit without government interference? The Fiendish Fiends, the new dark comedy by Avi Gvili takes a humorous look at a company that is beset by safety issues, and who finds in this difficulty a new and very profitable income stream.
Straight from the news headlines, The Fiendish Fiends gazes into the possible future of the free market and imagines a world where anything can be sold for a profit. A night of thrilling drama and hilarious theater will take place at the new Staten Island Artists Building on Friday and Saturday, June 27 and 28th at 8:00 p.m., and Sunday at 7:00 p.m. 73 Wave st. Staten Island, New York 10304.
Born in Israel, Avi Gvili is the author of Samson Turner and the Legend of Hercules and the short story collection, Life & Love & the Like: Stories from the Everyday.
For more information, please call 917-825-0390 or email at agvili(at)boulevardbooks(dot)org.