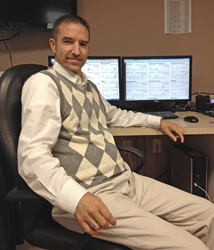 If VR hadn't been there for me, I wouldn't be here now. I don't know where I'd be without that program. I'd probably be lost. I had a void, and I'm fortunate VR helped me fill it.
Ft. Walton Beach, FL (PRWEB) June 20, 2014
At 24 years old, Nate Quillen was at the top of his game. He was a pro golfer with nothing standing in his way.
One night the unthinkable happened. His vehicle crashed, leaving him with a major spinal cord injury. Doctors said he'd never walk again. "When I had that injury, it was so devastating," Nate said. "When they said, 'you'll never be able to walk again,' I couldn't accept that. I've always been independent and wanted to do more."
After just three months of physical therapy, Nate was proving his doctors wrong, "I can't say I looked graceful walking around, you know, but I was walking." Even with this accomplishment, it was clear to Nate that his years of golfing professionally were over. He turned to Vocational Rehabilitation (VR) for help. "I was given three choices after taking a test (at VR); I could be a toll booth operator, an insurance adjuster, or I could go back to school," Nate said. "For me it wasn't a choice. I went ahead and enrolled in school. VR provided my tuition and books, and gave me a gasoline allowance."
Nate pursued a degree in biology, with aspirations of becoming a doctor. After earning his bachelor's degree, he applied to medical school but didn't get accepted. Nate headed back to VR for a second helping of guidance. His counselor in Ft. Walton Beach, Diane Jackson, helped him come up with a new plan. "Diane said, 'we don't usually send people to grad school, but with your academic performance, we'd like to try to give you the opportunity,'" Nate said.
With VR's support, Nate applied and was accepted to Marshall University in West Virginia. He was 1 of 12 students accepted into the master's program for forensic sciences. While at the university, Nate worked with the West Virginia State Police's digital forensics unit where he helped the unit crack down on people exploiting children. In 2010, Nate earned his degree.
Within a year, he was gainfully employed with Premiere Tox in Kentucky as a toxicology analyst. "Nate is wonderful. You won't find a better team player," his manager, Kristi Swearengin, said. "He always comes to work with a smile on his face and is just a pleasure to work with."
Then in July 2010, Nate had another stroke of bad luck – testicular cancer. Doctors quickly performed surgery and started him on radiation treatments. Nate faced cancer with the same positive attitude he did paralysis; he knew he could overcome this obstacle. He endured treatment for five months before doctors celebrated his success. "There were so many roadblocks, but here I am, defying the odds," Nate said.
Nate is still working with Premiere Tox, where he recently was promoted to team leader. His supervisors know he's an asset to their company. "When you see Nate walk into a room, you know he has some physical limitations," Kristi said. "But when you talk with him, you realize he hasn't lost anything. Employers should think about that and see where they can fit in. We've found a place for him, and he is excelling."
Nate attributes his success in the work place to VR's continued support. "If VR hadn't been there for me, I wouldn't be here now. I don't know where I'd be without that program. I'd probably be lost. I had a void, and I'm fortunate VR helped me fill it."
About Vocational Rehabilitation
Florida's Vocational Rehabilitation (VR) is a federal-state program committed to helping people with disabilities become part of America's workforce. VR has 80 offices across Florida, and last year helped 6,523 Floridians with significant disabilities find or keep a job. For more information about VR and its services, call (800) 451-4327 or visit http://www.Rehabworks.org.