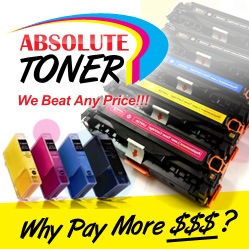 Absolute Toner also has a Buyer Rewards Program.
Toronto, ON (PRWEB) June 24, 2014
Those who use Samsung laser printers may be able to save money with the compatible cartridge that is now available on Absolute Toner. This cartridge works perfectly with the Samsung SL-M2625D, Samsung SL-M2825DW, Samsung SL-M2875FD and Samsung SL-M2875FW. The website also offers the original Samsung MLT-D116S cartridge for those customers who do not want to use a compatible cartridge. However, the price does increase when using original products. More information can be found at http://www.absolutetoner.com/samsung-toner-cartridges/1332-samsung-mltd116s-toner-cartridges-compatible.html.
Compatible toner cartridges are often manufactured with the exact same equipment and processes that the brand name toner is going through. Compatible cartridges will provide you with the same yield and high quality that the original Samsung MLT-D116S toner cartridge will provide.
These cartridges are often rated for printing just as much, if not more than their brand name counterparts. This compatible cartridge with the MLT-D116S can print 1,200 pages based on a 5% page coverage. That's the exact same rating that the Samsung-made cartridge offers. At Absolute Toner, the compatible cartridge is available for about 30% less than the brand name version. The website offers discounts such as this on every toner cartridge they sell, which is why many people prefer shopping online for their toner.
Even though they aren't manufactured by brand name companies, these compatible toner replacements offered by Absolute Toner are completely safe for use and provide the same quality of printing. There is nothing hazardous or damaging about them. All compatible cartridges are designed to work exactly the same as brand name ones. The compatible cartridges with Absolute Toner are designed to work with only a few models of printers. This is because one downside to some generic replacement cartridges is that they were created to work with many different printers. While they work with many models, they aren't always fully compatible with every single one of them. This can cause damage to the printer head or other problems like poor print quality. By offering only compatible toner cartridges that work with specific brands and models, Absolute Toner provides safe yet inexpensive toner for those who print a high volume of materials.
In addition to offering lower prices on original and compatible toner and on toner refills, Absolute Toner also has a Buyer Rewards Program. These points are earned on every purchase and can be redeemed for discounts at any time. Absolute Toner also offers a lifetime guarantee and a satisfaction guarantee on every product sold. Customers need only contact the site's customer service department to report issues with their cartridges. Qualifying orders also receive free shipping to anywhere in Canada.
About Absolute Toner:
Based in Toronto, ON, Absolute Toner has been providing brand name and compatible cartridges to individuals and businesses for many years. These replacement cartridges match or exceed the quality of the original brand cartridges, but cost only a fraction of the price. Visit http://www.absolutetoner.com to learn more about using compatible toner in printers and to purchase products.