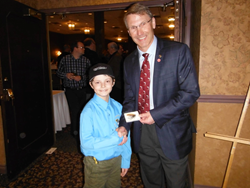 I am lucky to have my Dad, who takes the time to take me everywhere and get me things I need to tie my flies, and to my Mom, for putting up with my fur, feathers and hooks all over the house.
St. Andrews, New Brunswick (PRWEB) June 18, 2014
One of the youngest members of the Atlantic Salmon Federation (ASF) is heading to Scotland and England this week to meet with some of the world's top fly-tying experts. Julian Furlaga,10, from Moncton, New Brunswick, will be travelling with his father Karol for nearly three weeks for what he calls "a trip of a lifetime."
Last year, while taking part in the Dieppe FlyTying Forum, Julian met world-renowned fly tyer Davie McPhail who was visiting the forum from Scotland. Julian knew of McPhail from his instructional fly- tying videos which are posted on YouTube. While speaking with him, Julian mentioned how he loves to travel and announced that he was going to save up his money and visit McPhail in Scotland.
"Julian saved all of his birthday money, his Christmas money, and Dad's change daily," says Karol Furlaga. "He just made up his mind, and in a year, he had enough for a plane ticket."
The backpacking pair will begin their trip in Aberdeen, Scotland where Julian will be sitting in with Mike Townsend, a world-class fly tier.
"He will be learning about early classics and will do some fishing also," says the senior Furlaga. "From there we are headed to Northern England to sit with Dave Carne, another world-class tier who just recently completed a limited book of Vintage Classic patterns. From there, we will be heading to meet with Stuart Hardy, possibly the biggest collector of vintage hooks and feathers dating to the Victorian era. Stuart ties modern Classic flies."
But it's the final leg of the trip that the Furlaga pair is most excited about.
"Last but not least, we'll spend a week back in Ayr, Scotland with Davie McPhail, the sole reason why Julian saved up for his trip in the first place."
Meanwhile, Julian has made quite an impression with ASF. Earlier this spring, he attended an ASF fundraising dinner in Moncton where he generously donated one of his personally tied flies. The fly called Black Dog generated $250 for ASF at the auction.
"I am a member of the Dieppe Fly Tying Club, which is where I learned to tie many different flies over the last 2 years," wrote Julian in a recent letter to ASF. "A year ago, I started to tie classic salmon flies, which is now my passion. I am lucky to have my Dad, who takes the time to take me everywhere and get me things I need to tie my flies, and to my Mom, for putting up with my fur, feathers and hooks all over the house."
The Furlaga pair will leave New Brunswick on June 18 and will return the first week in July.
"I look forward to Julian having fun and making memories," says Karol Furlaga. "One day, when he looks back, maybe he will do a book on it. We have travelled to numerous places but I like to keep him grounded, motivated and humble and let him enjoy nature for what it is."
-30-
The Atlantic Salmon Federation is dedicated to the conservation, protection and restoration of wild Atlantic salmon and the ecosystems on which their well-being and survival depend. ASF has a network of seven regional councils (New Brunswick, Nova Scotia, Newfoundland and Labrador, Prince Edward Island, Quebec, Maine and Western New England). The regional councils cover the freshwater range of the Atlantic salmon in Canada and the United States.
ASF Contact: Holly Johnson, Manager of Public Information: (506)529-1033(o)
(506)469-1033(c), HJohnson(at)asf(dot)ca
To view this story online visit: http://www.asf.ca.
Join us on facebook: https://www.facebook.com/AtlanticSalmonFederation. Twitter: https://twitter.com/SalmonNews
For high-resolution photography please visit: the ASF Image Gallery: http://www.asf.ca/images.html.