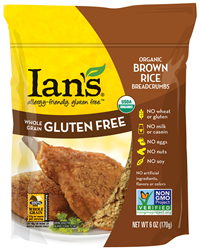 By adding to our Culinary Creations line, individuals and families with food allergies can conveniently prepare a wider variety of meals that are delicious, nutritious and allergy-friendly" - Chuck Marble, CEO
Boston, Massachusetts (PRWEB) June 18, 2014
Ian's is reinforcing its No. 1 position in the natural marketplace for panko-style breadcrumbs with the extension of its "Culinary Creations" product line. By offering even more variety to home chefs, Ian's lives up to its promise to provide allergy-friendly/gluten-free meal solutions families can trust.
Ian's announces four new items to its Culinary Creations lineup:

Italian-style Croutons
Savory Stuffing
Tortilla Breadcrumbs
Organic Brown Rice Breadcrumbs
All four new Culinary Creations are pending NonGMO Project verification.
Each product was specially created to provide an easy and convenient way to prepare great-tasting meals for the entire family, whether family members have food allergies or not.
Ian's now has seven flavors and styles of breadcrumbs, offering unparalleled choice for home chefs. Fried zucchini, chicken parmigiana, wienerschnitzel – if it calls for breadcrumbs, Ian's has got it covered. Foodies in general as well as families with food allergies have never had such delicious options before now.
Perfect as a savory snack right out of the bag, atop Caesar salad or in soup, Ian's allergy-friendly, gluten-free Italian-style Croutons put a tasty crunch in the palm of your hand. Next, try Ian's Tortilla Breadcrumbs as a breading and in favorite family recipes for a distinct corn flavor and crispy tortilla c-r-u-n-c-h! Ian's Tortilla Breadcrumbs offer eight grams of whole grain per serving and are made without the use of genetically modified ingredients.
Families with food allergies are always on the lookout for more variety, so the holidays are not the only time to serve stuffing. Now, thanks to Ian's, families can conveniently prepare scrumptious gluten-free, allergy-friendly stuffing any time and feel good knowing they are receiving eight grams of healthful whole grains too.
Kroger carries most Ian's products, including Allergy-Friendly/ Gluten-Free Panko Breadcrumbs and new Tortilla Breadcrumbs and Italian-Style Croutons.
"By adding to our Culinary Creations line, individuals and families with food allergies can conveniently prepare a wider variety of meals that are delicious, nutritious and allergy-friendly," said Chuck Marble, CEO of Elevation Brands, the maker of Ian's. "We at Ian's work hard every day to offer people with food allergies and gluten diet restrictions the options to eat like they don't."
"Not only is it easier for them to add options to meal planning, it's now easier than ever for our customers to find our growing lineup of allergy friendly/gluten-free meal solutions. We are more than thrilled to announce that Ian's is now available in all Kroger Company grocery stores," Marble said.
Kroger is one of the nation's largest grocery chains, operating more than 2,600 stores under various names in 34 states and the District of Columbia.
For more about Ian's, please visit http://www.iansnaturalfoods.com. For interviews or product samples, please call the contacts listed at the end of this release.
ABOUT IAN'S NATURAL FOODS
Ian's is the pioneer of high-quality, all-natural, allergy-friendly foods consumers can trust. Products are manufactured in Ian's Framingham, Mass. FDA/USDA, facility where allergy-friendly food safety practices exceed federally mandated standards. Each batch is laboratory-tested for allergens and the plant's equipment is cleaned and sanitized with impeccable care after every production.. Ian's allergy-friendly foods are available nationwide at local natural and organic retailers and in the natural section of many grocery store chains or by direct purchase online at http://www.iansnaturalfoods.com.
MEDIA CONTACTS:
Jeremy Andrew Belitsos
McFadden/Gavender
O: (520) 882-6262
M: (530) 332-3732
Jeremyb(at)mcfaddengavender(dot)com
Diego Romero
McFadden/Gavender
O: (520) 882-6262
M: (520) 401-1693
diego(at)mcfaddengavender(dot)com
Website: http://www.iansnaturalfoods.com
###