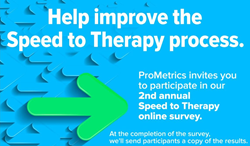 (PRWEB) June 19, 2014
ProMetrics is proud to present its 2nd annual Speed-To-Therapy Survey. Our multi-stakeholder survey is designed to understand how long it takes for a patient to receive medication after the physician writes the prescription. A good process requires strong coordination between the manufacturer, the specialty pharmacy, the physician, the payer, the hub and the patient.
Last year, more than 100 participants completed the survey.
This year, ProMetrics wants to dig deeper to understand how stakeholders are influencing Speed-To-Therapy. We have put together an Editorial Advisory Board, comprised of eight experienced professionals who have helped fine-tune this year's survey.
The survey will provide insights into:
1. Median STT for Specialty Brands
2. Influence of Hub Services on STT
3. Interventions that result in a faster STT
ProMetrics encourages industry professionals to take our STT survey. In exchange for only 5 minutes of their time, they will receive the results of our survey. All participants will also be entered into a raffle for a chance to win an iPad.