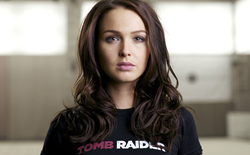 "I used to be scared to ask to do my audition scenes again- or to start over thinking that that was a sign of incompetence. But it's so important to feel your voice in the few minutes you have in that room. Make those minutes count. Own it."
New York, NY (PRWEB) June 18, 2014
Since the inception of the New York Film Academy's One-Year Acting Conservatory Program in 2003, NYFA has kept a watchful eye on one of its first students from the program, Camilla Luddington.
Since graduating from NYFA, Camilla's acting career has blossomed, having landed roles on major productions including Californication, True Blood, Grey's Anatomy, Tomb Raider (video game) and more. As a native of England, she's also had the privilege of playing Kate Middleton, the Duchess of Cambridge and wife to Prince William, in the Lifetime TV movie, William & Kate.
Recently, the New York Film Academy caught up with Camilla in a Q&A as part of the new Student Resources site, which provides invaluable tips, information, and industry Q&A's for its students.
Camilla discusses everything from her earliest memory of wanting to be an actress (after watching Judy Garland in Wizard of Oz) to her experiences on sets like Grey's Anatomy and her new obsession with acting in video games.
"Motion capture feels 'freeing' to me as an actor," says Camilla. "It's not like theatre where you have to play to an audience, or like TV where you have to be aware of a camera because it's literally attached to you. It's essentially just you in a giant room they call the 'volume' and you are left with your imagination to create the world around you."
With several years of professional acting experience under her belt, Camilla provides advice to current students and recent graduates. Her 'awakening' came to be after developing confidence in the audition room.
"I used to be scared to ask to do my audition scenes again- or to start over thinking that that was a sign of incompetence. But it's so important to feel your voice in the few minutes you have in that room. Make those minutes count. Own it."
To read more of NYFA's exclusive interview with former student, Camilla Luddington, CLICK HERE.