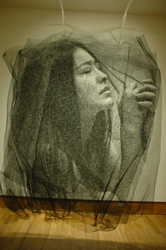 I watched throngs of people come through… people who are not our usual visitor types.They were telling me they had never seen anything like it.
Traverse City, MI (PRWEB) June 20, 2014
Two unique exhibits of East Asian art featuring an iconoclastic Korean sculptor and a provocative photographic record of social change in modern China are drawing crowds this summer at the Dennos Museum Center in Traverse City, Mich.
Both exhibits -- Seungmo Park: Meticulously Snipped and Wrapped and How to Return – will be on display at the Dennos until Sept. 7. Museum director Gene Jenneman, who visited Seungmo at his studio outside of Seoul late last year, says he's been delighted with the public response to them.
"I watched throngs of people come through… people who are not our usual visitor types," he said. "They were telling me they had never seen anything like it. They were actively engaged with the work, photographing themselves with -- and in -- one of the works that allows you to become part of the piece."
The Dennos show is Seungmo Park's first solo museum exhibition in the U.S. and features his meticulously cut MAYA imagery, in which the sculptor uses layers of wire mesh to create deep images that combine an ethereal, spiritual depth with nearly photographic realism.
Park's other sculptural works are drawn from models found around him - a person, a piano or a motorcycle – which he transforms into oddly disturbing shapes wrapped in aluminum wire.
"How to Return: an exhibition of Contemporary Chinese Photography" is a showcase exhibition organized with Shanghai's M97 Gallery, whose owner Steven Harris is a Michigan native who summered in nearby Northport as a young man. Harris chose the work of seven contemporary Chinese photographers who reflect the contrasts and collisions between tradition and change.
Harris believes current art in China reflects a growing disenchantment with "the veil of glittery consumerism and all it promised," and a search for ways to find what's left of their roots. Each of the seven artists included in the Dennos exhibition conducts that search differently.
Adou and Luo Dan are perhaps most recognized for their work documenting ethnic minority groups in China like the Yi of Sichuan and the rural villagers of Yunnan. Song Chao emerged on the international stage with a series of portraits of his fellow coal miners, while painter turned photographer Liang Weizhou depicts the industrialization and post-industrialization of the water towns and countryside around his native Shanghai. Huang Xiaoliang and Lu Yanpeng present composed and landscape images of delicate and dreamlike quality, while Wang Ningde's conceptual images explore the tension between today's China and memories of the Cultural Revolution; his iconic series "Some Days" has achieved international acclaim.
Since its opening in 1991, the Dennos has become northern Michigan's most significant cultural center. In addition to a collection that includes over 1,100 catalogued works of artworks from the Inuit people of the Canadian Arctic, it has hosted several major traveling exhibits, from works by studio glass artist Dale Chihuly to artifacts of ancient Egypt and gold from pre-Columbian Panama.
Located on the campus of Northwestern Michigan College, it is also the home of Milliken Auditorium, whose annual series of jazz, blues and world music is a hugely popular part of the state's cultural mosaic.
The museum is open Monday to Saturday from 10 am to 5 pm, Thursday until 8 pm and Sundays from 1-5 pm. Admission is $6 for adults and $4 for children. For more information on the Museum and its programs, go to http://www.dennosmuseum.org or call 231-995-1055.
Traverse City Tourism is the destination marketing organization for Traverse City.