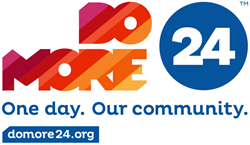 "Do More 24 shines the spotlight on the essential work nonprofits do throughout the National Capital Area," said United Way NCA President and CEO Rosie Allen-Herring.
Washington, DC (PRWEB) June 19, 2014
Do More 24, a 24-hour online giving marathon hosted by United Way of the National Capital Area (United Way NCA), is now underway and donors have until midnight tonight to support any of the 568 participating nonprofits through the Do More 24 website. The second annual 24-hour giving marathon features live online updates, special cash awards for nonprofits, and local restaurant promotions and special events. Do More 24 was launched by United Way NCA in June 2013, when more than $1.3 million was raised to support 500 local nonprofits through 15,223 donations made by 11,000 donors.
United Way NCA urges area residents to:

"Do More 24 shines the spotlight on the essential work nonprofits do throughout our region and gives members of the community a focused opportunity to provide organizations serving the National Capital Area with an important mid-year boost so they can remain vital and effective throughout the year," said United Way NCA President and CEO Rosie Allen-Herring. "For United Way NCA member nonprofits and nonprofits of all sizes serving in our community, Do More 24 provides an opportunity to gain additional visibility and expand their donor base."
Through Do More 24, donors can engage with National Capital Area nonprofit organizations to support their programs and services that address basic health and human services needs as well as a variety of causes including animal welfare and the environment, arts and culture, education, financial stability, workforce readiness and more.
This year, the Do More 24 online giving platform is hosted by Kimbia, which has more expertise than any other giving day vendor. In 2013, Kimbia supported more than 20 giving days including the North Texas Giving Day hosted by the Communities Foundation of Texas, which raised $25.2 million dollars for 1,351 nonprofits in the Dallas/Fort Worth area during just 17 hours via more than 75,000 online donations.
"We are excited to have Kimbia as our Do More 24 technology partner," said Allen-Herring. "Given the overall generosity of the Washington metro area and the fact that several of our National Capital Area regions rank among the nation's most generous online givers, we want to be able to deliver every bit of that goodwill to local nonprofits." According to Blackbaud's 2012 rankings of the most generous online cities, Alexandria ranks #2, Washington, DC is #3 and Arlington is #4.
Speaking about last year's Do More 24 campaign, For the Love of Children Executive Director Tim Payne said, "We exceeded our fundraising expectations by far, and we were able to think about making some remarkable investments in our programming. We were able to add a new position to fulfill the goal of improving case management and focus on college readiness." Hundreds of other nonprofits participating in the inaugural Do More 24 similarly were able to fill holes in their budget, buy desperately needed new equipment, launch new programs and services, and reach new donors and supporters.
All nonprofits serving DC, Northern Virginia and Montgomery and Prince George's Counties in Maryland were invited to participate. United Way NCA is powering the Do More 24 campaign by providing each participating nonprofit with a quick-to-create, customizable fundraising page on the Do More 24 website, staff training, and a toolkit of outreach materials. In addition to receiving online donations, participating nonprofits are eligible for cash awards totaling $72,500 offered by United Way NCA for the most successful Do More 24 campaigns.
"We were particularly excited about the Do More 24 campaign as it enabled us to engage with staff, trustees, and current and new donors in a new and different way," said Charles Barrett Adams, Esq., Head of School, The SEED School of Washington, D.C. "The competition edge of Do More 24 and real-time updates throughout the campaign kept our donors engaged and motivated. We look forward to participating again this year."
Goldman Sachs, Pepco, Microsoft, Comcast-NBCUniversal and the Walmart Foundation are the "champion" sponsors of this year's Do More 24. Dozens of local restaurants and retail establishments are partnering with Do More 24 nonprofits and offering promotions and incentives to area residents to help amplify donations. For example, Chipotle, Cava Mezze, The Greene Turtle and sweetFrog Premium Frozen Yogurt are donating proceeds of sales on June 19 to United Way NCA. Other local restaurants throughout the region are similarly supporting nonprofits serving their neighborhoods. Visit the Do More 24 website for a complete list.
About United Way of the National Capital Area
Focusing on the critical areas of education, financial stability and health, United Way of the National Capital Area and its nonprofit members not only provide immediate relief of social problems affecting the community, but also work to alleviate the underlying causes of these issues. Serving the District of Columbia, Northern Virginia, and Montgomery and Prince George's Counties for 40 years, United Way of the National Capital Area works to inspire acts of caring, deliver hope and improve lives. In total, United Way of the National Capital Area raises approximately $30 million each year to address the needs of the community. For more information about United Way of the National Capital Area, visit UnitedWayNCA.org.