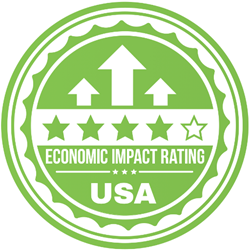 These were staggering results that show just how dire the problem of job creation in the U.S. has become.
Manchester, New Hampshire (PRWEB) June 19, 2014
This week, the Economic Impact Rating published a white paper with the findings of a Gallup report from May that found Americans have little confidence in U.S. businesses to create jobs. The white paper, titled "Research Exposes Easy Way for Businesses to Develop Lifetime Customers" provides suggestions on how U.S. businesses can regain consumer confidence and improve sales.
The Gallup research concluded that Americans see large U.S. companies as having a more positive effect overseas than they do domestically. While 66% of Americans believe that large U.S. companies do a good job of creating jobs in international markets, just 43% say the companies do a good job of creating jobs for Americans.
"Gallup research consistently finds the economy and jobs as top concerns among Americans," notes Anthony Comito, CEO and founder of the Economic Impact Rating. "But these were staggering results that show just how dire the problem of job creation in the U.S. has become."
The white paper lists the following suggestions as ways to gain back the trust of American consumers:

Displaying "Made in the USA" on a product's label, websites and in catalogues
Put out press releases on specific economic impact of that product
Create a major marketing and social media campaign around that impact
Using third-party certification marks like the Economic Impact Rating
Using a patent-pending accounting system, the Economic Impact Rating looks at the price tag of a product in order to gauge job creation and economic growth created through purchase of that product. It looks at where factors like jobs, taxes, charity, ingredients, and components are distributed and then places the findings on a one- to five-star scale.
The Economic Impact Rating Certification Mark is displayed on packaging, signage, or advertising—similar to other certification marks like Organic Certified or Free Trade Certified. A variety of Economic Impact Rating Certification Marks are available, each specifying a specific geographical radius—such as a state like California, a region like New England, or the USA.
"We published the white paper because this is valuable information that both consumers and businesses can benefit from," adds Comito. "Our certification program goes beyond unsubstantiated 'Made in America' claims and allows job-creating products to stand apart from others that contribute less to the U.S. economy. This helps both the consumers that want to support those products and the businesses that sell them."
The Gallup research, based on telephone interviews conducted April 30 - May 1, 2014, are collected from a random sample of 1,005 adults, aged 18 and older that live within the 50 U.S. states and the District of Columbia.
Gallup delivers forward-thinking research, analytics, and advice to help leaders solve their most pressing problems. For over 75 years, Gallup consultants have helped private and public sector organizations boost organic growth through measurement tools, strategic advice, and education. Gallup's 2,000 professionals deliver services at client organizations, through the Web, and in nearly 40 offices around the world.
The Economic Impact Rating, an independent certifier of products and services, helps businesses show their economic impact, by giving consumers the information they need to support businesses that strive to create jobs, contribute taxes and capture cash flows in the community. The rating is a patent-pending, third-party mark placed on packaging, websites or marketing material showing consumers, on a 5-star scale, how much of a product's price-tag is being captured in an area. For more information, follow them on Twitter @EconImpact, Facebook or connect on their website http://www.economicimpactrating.com/.