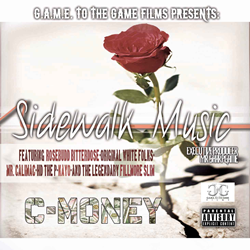 Pomona, CA (PRWEB) June 19, 2014
Coast 2 Coast Mixtapes announce the release of the "Sidewalk Music" mixtape by C-Money. The 22 track project is currently available for download.
C-Money is an emcee born in Long Beach, CA but raised in Pomona, CA where he currently resides. No stranger to adversity, being left behind by his biological mother at the age of nine to be raised by his father and stepmother, C-Money grew up in a rough neighborhood surrounded by gang members and street hustlers. Even though he had the chips stacked against him, C-Money stuck with his school activities seeking a better life for himself. Nicknamed "C" by his father and earning the "Money" part of his name for doing whatever it took to get the job done, C-Money stayed focused on school and football until he was kicked out of school for disciplinary reasons his Sophomore year of college thus returning to Pomona to pursue a career in music.
Feeding on his long time passion for music C-Money became a full time musician. Using the skills he developed writing battle raps with his friends in High School, C-Money started recording music when he was only 16 years old. Now 28 years old C-Money is more focused than ever on developing his music career not only as an artist but also a businessman. Known as a smart, well dressed, caring, genuine, passionate man of leisure; C-Money's charm and fearlessness have found him success in achieving his ideal self. Emphasizing the righteousness of his message, C-Money wants to world to know that "it started from the bottom, WE took it to the top!" Building a community of fans, family, and friends; C-Money continues to release music and rock stages with his original brand of entertainment.
C-Money's latest release, "Sidewalk Music", is designed to showcase C-Money's lyrical skill by utilizing technology accessible to the average person such as a smart phone, computer, and basic microphone. Collecting top production from a variety of sources across the internet, C-Money uses his raw talent to show the world why he is different than your average emcee. Give "Sidewalk Music" a full listen and keep up with C-Money on his Twitter page at @IBreakBatches.
About Coast 2 Coast Mixtapes
Coast 2 Coast Mixtapes are the most widely distributed mixtapes in the world, with over 100 million downloads/plays generated by over 200 volumes officially hosted by major artists. Coast 2 Coast has a solid reach in the new music industry with a digital magazine, DJ coalition, industry tips blog, yearly convention, and more. Coast 2 Coast Mixtapes represents a unique opportunity for artists of all urban genres, from major to indie. For more information, visit http://www.coast2coastmixtapes.com.