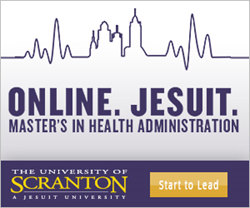 Students truly develop an appreciation for culture and international health systems on domestic scale, but also on a global scale and how countries interact within themselves and with each other.
Scranton, PA (PRWEB) June 19, 2014
Student and faculty of The University of Scranton's Master of Health Administration returned from a 10-day study abroad program to eastern Europe on May 27, 2014. The trip, an optional travel component of the Global Health Management (HAD 517) course in the program, is designed to offer students the unique opportunity to immerse themselves into global healthcare systems and international economies.
"This program offers such a unique opportunity for our students academically, professionally and personally," says Steven J. Szydlowski, M.B.A., M.H.A., D.H.A. "Students truly develop an appreciation for culture and international health systems on a domestic scale, but also on a global scale regarding how countries interact within themselves and with each other."
The trip to Eastern Europe, occurring bi-annually in January and May of each year, is structured around a 20-year relationship The University of Scranton has developed with Catholic and Jesuit Universities Saint Elizabeth University & Trnava University located in Slovakia. Primarily based in Slovakia, students also visit Hungary, Austria and the Czech Republic where they visit with local healthcare executives, tour various hospitals and healthcare facilities, network with other academics and industry leaders, and prepare research papers for presentation at International Academic Forums at the close of the abroad trip. Many attending students also seek the opportunity to publish their completed study in international peer-reviewed journals like the European Journal of Public Health and Health Management.
The study abroad program also offers a South American trip which is currently scheduled for October 2, 2014. Participating students will travel to Brazil, exploring The University of Scranton's newest international relationship with Pontifical Catholic University of Rio de Janeiro (PUC-RIO) and have the opportunity to present their research topics at the South American Institute of Government and Health (ISAGS).
The Master of Health Administration (MHA) program at The University of Scranton is offered in both fully online and on-campus formats. The online MHA was recently launched, accepting and enrolling its first students in May 2014. Both on-ground and online MHA students are invited to inquire about participating in the study abroad program.
About The University of Scranton:
One of 28 Jesuit colleges and universities in the United States, the University of Scranton cultivates an educational environment shaped by Jesuit values of ethics and social responsibility. Faculty and staff are committed to providing an exceptional education that prepares students to meet the challenges and opportunities of today's world.
The Graduate Health Administration Campus-based Program is accredited by the Commission on Accreditation of Healthcare Management Education (CAHME, formerly ACEHSA). This accreditation reflects the commitment to and achievement of national standards for graduate level healthcare administration education. Additionally, the MHA program maintains full graduate membership status with the AUPHA. The online MHA, recently launched in May 2014, has been developed as a fully online replica of the ground program and is designed to mirror the same rigor and opportunity of the ground-based program.