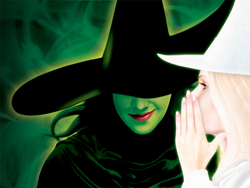 Denver, Colorado (PRWEB) June 19, 2014
What's with Wicked? The three-time Tony and Grammy Award-winning musical has been on a wild run ever since it opened on Broadway back in 2003. Since then, it has broken every box office record in the book, both in North America and around the world.
In fact, the play currently holds the weekly-gross-takings records in Los Angeles, Chicago, St. Louis and London. During the last week in 2010, the London, Broadway and both North American touring productions simultaneously broke their respective records for the highest weekly gross. Then, in the final week of 2013, the Broadway production broke its record again, earning $3.2 million.
Plus, according to estimates, the West End production and North American tours have been seen by over two million patrons each, and the play itself has been seen by more than 30 million people around the globe. It is also estimated that as of September 2011, Wicked's North American and international companies cumulatively grossed almost $2.5 billion in receipts. (Source: wikipedia.org)
"Wicked currently has productions performing at the Gershwin Theatre in New York, Apollo Victoria Theatre in London, Queen Elizabeth Theatre in Vancouver and Tulsa Performing Arts Center in Tulsa, Oklahoma," said Marta Ault at online discount ticket marketplace BuyAnySeat.com
"The 15-date Vancouver run ends on June 29. The cast then opens a 23-show schedule at the Northern Alberta Jubilee Auditorium in Edmonton, Alberta on Wednesday, July 2, 2014. The 24-date run at the Tulsa Performing Arts Center wraps on July 6 and the ensemble moves to open at the Capitol Theatre in Salt Lake City on July 9, 2014 for 57 shows."
"That's why we're proud to be able to offer theatre-goers the most comprehensive and continuously refreshed selection of discount theatre tickets online, with a worry-free guarantee to protect their purchase," added Ault.
"To access the complete selection of cheap Wicked tickets we now have available, as well as all of the other seating options offered, customers can go to BuyAnySeat.com and search for Wicked – then select their tickets," said Ault.
Officially known as Wicked: The Untold Story of the Witches of Oz, the play premiered at the Gershwin Theatre on Broadway in October of 2003, where it consistently plays to 100 percent capacity and grosses in excess of $1.6 million each week, making it one of the most lucrative productions on Broadway.
In fact, since its opening, it has broken the house record at the Gershwin Theatre over 20 times. Plus, Wicked is only the third musical in Broadway history to exceed $500 million in total gross. And in the final week of 2012, the Broadway production re-broke its own record, earning an all-time gross of $2.9 million. (Source: wikipedia.org)
With music and lyrics by Stephen Schwartz and a book by Winnie Holzman, the original Broadway production was directed by Joe Mantello and choreographed by Wayne Cilento. It is based on Gregory Maguire's 1995 book called Wicked: the Life and Times of the Wicked Witch of the West – a parallel novel of the 1939 film The Wizard of Oz and L. Frank Baum's classic story The Wonderful Wizard of Oz.
It tells the story of two unlikely friends, Elphaba (the Wicked Witch of the West) and Glinda (the Good Witch of the North). The two struggle through opposing personalities and viewpoints, rivalry over the same love-interest, reactions to the Wizard's corrupt government, and finally, Elphaba's fall from grace.
The two U.S. traveling productions have already played to packed houses in Charlotte, Tucson, Rochester, Dallas, Kalamazoo, South Bend, Madison, New Orleans, Philadelphia, Boston, Houston, Toledo, Oklahoma City, Little Rock, Kansas City, Des Moines, Indianapolis and Cleveland.
To shop for discount Wicked tickets, visit BuyAnySeat.com. To save even more, enter "BAS2014" at check-out.
About BuyAnySeat.com: An online discount ticket marketplace, BuyAnySeat.com connects sports, theater and other live entertainment fans to an extensive network of ticket sellers worldwide. The site's simplified listings and navigational tools enable shoppers to easily locate, compare and purchase inexpensive, discounted or lower-priced tickets to virtually all advertised sports and entertainment events around the globe.
The site, which is PCI-compliant and Norton Secured, also provides customers with a complete Worry-Free Guarantee on all ticket purchases. Based in Denver, Colorado, BuyAnySeat.com is a subsidiary of Denver Media Holdings. For more information, please visit http://buyanyseat.com.