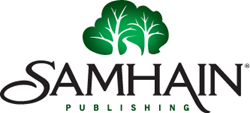 Samhain will be returning to its roots of finding and publishing best-selling romance writers.
Cincinnati, OH (PRWEB) June 19, 2014
International publisher Samhain Publishing® today announced initial steps in its strategic plan to reorganize operations and develop industry partnerships, allowing the company to be more agile in the ever-changing ebook marketplace. As part of this exciting transition, owner Christina Brashear has returned as Publisher and her first order of business was to restructure the editorial team. As a result, current Publisher Lindsey Faber will depart the organization to serve in a consulting role and Heather Osborn will transition from Editorial Director to freelance editor.
Says Brashear, "As part of this reorganization, Samhain will be returning to its roots of finding and publishing best-selling romance writers. The careers of New York Times best-selling authors like Maya Banks and Lorelei James started at Samhain nearly a decade ago. Now that I'm back at the helm, I'll continue to nurture and support our current authors while looking to find that next generation of best-selling writers to take their work to the next level and continue to do what Samhain does best."
Samhain will expand its operations to support its current list of more than 2,500 fiction titles and more than 600 authors. Brashear explains, "With our renewed dedication to monetize subsidiary rights, we will aggressively be pursuing further rights deals in audio, foreign, and licensing and expect the next 24 months to bring extraordinary revenues to Samhain Publishing."
Deals and developments already in place include:

17-audiobook deal with feminist icon Susie Bright at Audible
4-audiobook deal with Insatiable
Front-list Samhain titles will now be available on the industry review site NetGalley
A newly revamped and designed website will launch this summer
Samhain will sponsor the Horror Writers of America/Bram Stoker Awards in 2015
The company will embark on aggressive mainstream commercial advertising, starting with the August issue of Cosmopolitan magazine
Samhain is also growing its reader base with Samhain Horror, the award-winning and ground-breaking horror line headed by legendary horror editor Don D'Auria, who is doubling the number of books he will be publishing in the next year. Samhain is also making inroads into non-traditional sales outlets such as big box retailers as well as libraries and subscription services. "Developing strong relationships with industry partners is a cornerstone to our success, and as the marketplace changes, we're excited to change with it," says Brashear.
To learn more about Samhain Publishing, visit the publisher online at http://www.samhainpublishing.com.
About Samhain Publishing
Samhain Publishing® is an international publisher of ebook and traditional print fiction, whose diverse array of titles include all genres of romance fiction, award-winning horror fiction, and Retro Romance® fiction—a program that enables previously print-only titles to reach a new e-reading audience. An acknowledged expert in digital publishing since its founding in 2005, Samhain is dedicated to ensuring extraordinary stories reach every reader. To learn why "It's all about the story" at Samhain, visit Samhain Publishing online at http://www.samhainpublishing.com.