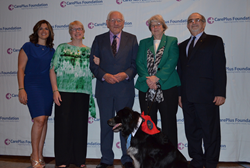 He listened and he cared and made sure I walked out of his office feeling a little better each time.
(PRWEB) June 19, 2014
Nearly 300 were present as honorees, scholarship recipients, and CarePlus spokespeople shared their stories of courage on May 28th at the 16th Annual CarePlus Foundation Courage Awards Gala held at the Venetian in Garfield, New Jersey.
"He listened and he cared and made sure I walked out of his office feeling a little better each time," said Emmy Aspras, CarePlus client and one of this year's Bernard Dubnick Scholarship recipients, about her clinician at CarePlus.
Each year, CarePlus honors those who have proven to go above and beyond expectations with the Courage Awards Gala. This year was no different with honorees including a stigma fighting group from northern New Jersey, a dedicated family member who involves the community in his passion, a volunteer who brings her dog along to help those in need, a CarePlus staff member who has gone beyond her duties, and a group of students suffering from mental illness who will attend college this fall.
With the mission of ending the stigma associated with mental illness, a group of concerned citizens, local government, school officials, health care professionals, and business leaders banded together to form the Paramus Stigma-Free Zone. Since mid-2013 the group has created opportunities for the community to learn about mental illness and the devastating effects of stigma. They continue to grow and remain a large part of the community and public education efforts.
Stephen Gavosto, a long-time supporter of Care Plus who served Board on the Board of Trustees for the past 12 years, has been a strong proponent in the fight to end stigma. As a member of White Beeches Golf and Country Club Stephen served as one of the founding co-chairs for the CarePlus Foundation's annual golf outing. He is a great family man who has provided care and support to one of his family members who suffer from mental illness.
Professional goose herder and therapy dog, Luke travels with his owner, Sister Mary Foley, who serves as a Red Cross Mental Health Volunteer, Disaster Response Crisis Counselor, and volunteers with the Traumatic Loss Coalition of Bergen County and Therapy Dogs International. When not traveling, Sister Mary and Luke work together at Academy of the Holy Angels to relieve stress among faculty and staff.
"Silvia goes above and beyond," was one of the quotes submitted by peers for CarePlus' inaugural Staff Compassionate Care Award. Recipient Silvia Henriquez of the CarePlus Healthy Families program has been with the organization for over four years and in that time has exceeded the challenging requirements and expectations of her role. Staff members were present to cheer on Henriquez as she accepted the award.
Emmy Aspras, selected to share her story of courage with guests, was one of the twenty-two students who were awarded Bernard Dubnick Scholarships this year, totaling $42,000. These individuals, each struggling with mental illness, will mostly attend local universities with one scholarship recipient attending USC this fall.
"Thanks in part to the CarePlus Foundation, I want to provide other victims of bullying with the life-changing skills that I was so fortunate to have acquired," Aspras shared as she spoke of her experience at CarePlus.
Attendees also viewed the debut of a new CarePlus video which showed the success of their clients, as well as the dedication and hard work from the employees at CarePlus. The video is available for viewing at the CarePlus website: http://www.CarePlusnj.org.
The Courage Awards Gala completed its 16th year by exceeding last year's total in funds raised. The $125,000 raised will directly benefit clients of CarePlus. With donations and fundraisers such as these, CarePlus continues to provide the care and services for those who suffer from the challenges of mental illness.