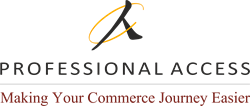 This is an exciting time to partner with retail leaders as we work together to drive innovation and eCommerce excellence.
New York, NY (PRWEB) June 25, 2014
Professional Access Ltd., a leading provider of business consulting and implementation services for omni-channel commerce and a trusted Oracle partner, has closed another successful year. The company has witnessed substantial growth delivering services that accelerate the evolving commerce journey, and support increased demand for omni-channel commerce capabilities and drive differentiation through the online customer experience.
The company's key strengths were highlighted in the fourth quarter as it continued to focus on delivering global omni-channel vision and customer experience innovation that enable enterprises to increase revenue and achieve a greater return on their investment in commerce technologies. Enterprises in retail, including fashion, general merchandise, and specialty; consumer services, including communications, loyalty/rewards and warehouse clubs; and business-to-business, including, manufacturing and distribution - all leveraged Professional Access' global success model to reach new heights last year.
"This is an exciting time to partner with retail leaders as we work together to drive innovation and eCommerce excellence," said Babu Venkatesh, CEO and President at Professional Access. "The Oracle Commerce platform continues to be a key driver of this commerce evolution. As a result, our focus on Oracle technologies is beginning to pay off well."
Notable client successes in fiscal year 2013 included:

Strong relationship management and customer success are a hallmark of Professional Access' value proposition. Customers across developed and emerging markets including Mr Price, Nintendo of America, Woolworths SA, Affinion, Maritz Corp, Tire and Battery Corp, Kohl's and Verizon Wireless, expanded their relationship with Professional Access. These firms continue to partner with Professional Access for post go-live application support, maintenance, and enhancement; engineering services; and commerce application maintenance to ensure cost optimization and further enhance their commerce and customer experience capabilities across multiple touch-points.
Recognized for its ability to help guide organizations on a path to eCommerce excellence, Professional Access reported strong expansion in emerging markets—particularly South Africa and Latin America—as well as consistent growth in developed international markets. An expanded footprint included Mexican department store leader El Puerto de Liverpool and South African retailer The Foschini Group who chose Professional Access for its demonstrated understanding of local commerce needs, global B2C experience, and knowledge of eCommerce best practices.
Across Latin America, growing use of the Internet and social media is driving a booming market for online retail and digital advertising. To support this demand and serve its growing client base in the region, Professional Access opened an office in Mexico, adding to an existing location in Colombia. Additional revenue was driven by numerous multi-year contracts with existing clients in developed markets for commerce consulting and business operations services—testament to the company's track record of exceeding client expectations.
Lastly, high fashion brands and global duty free retailers signed new contracts with Professional Access to help roll-out their next generation omni-channel commerce initiatives with sophisticated solutions that support online business growth, transform the customer experience, and deliver updated transactional capabilities, all through Oracle omni-channel commerce solutions.
Dubai Duty Free (DDF) selected Professional Access to help build its e-commerce business using Oracle Commerce technologies. "Using Professional Access' expertise, DDF is expanding its retail offer by providing passengers the opportunity to browse an on-line catalog, pre-order the items and then collect on departure or arrival at its airport stores," said Ramesh Cidambi, Senior Vice President – I.T. and Logistics for Dubai Duty Free. "This phased transformation, from retailing only at its stores in Dubai's airports to having an offer both on-line and in store, required Professional Access' understanding of retail best practices, deep knowledge of the Oracle Commerce technology, and expertise in related areas such as the user experience, payments and integration with other applications. For DDF, the combination of Oracle Commerce technologies and Professional Access' services is absolutely essential to help us to meet the increasing demands of customers in a business that is changing quickly."
"We expect that continued commitment to the Oracle Commerce, combined with our growing presence in emerging markets, will enable us to further expand our global footprint and increase revenues as we move into the new fiscal year," said Ashu Chahal, COO of Professional Access.
About Professional Access
Professional Access (PA) is an Oracle Platinum Partner and industry leader specialized in Oracle Commerce implementations. PA has successfully delivered over 175 implementations for Fortune 2000 brands. PA's end-to-end offerings around commerce consulting, technology delivery and business operations are positioned to meet the diverse needs of clients in their commerce journey.
For more information, please visit http://www.professionalaccess.com.