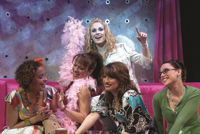 "As funny and outrageous as 'Sex and the City'!" - The Advocate
Worcester, MA (PRWEB) July 11, 2014
GIRLS NIGHT: THE MUSICAL is coming to The Hanover Theatre for the Performing Arts on Friday, September 26, at 8PM. Share the fun & laughter at this hilarious, feel-good comedy as five girlfriends go from heartbreak to happiness during a wild night of karaoke. Get your girlfriends together and come sing and dance along as you take in this party of a show! Tickets are on sale now and can be purchased online at TheHanoverTheatre.org, by phone at 877.571.SHOW (7469), or at The Hanover Theatre box office located at 2 Southbridge Street in downtown Worcester.
GIRLS NIGHT: THE MUSICAL has earned rave reviews playing packed houses throughout the United Kingdom since 2003. It premiered in the US in May 2007 and has toured across the country since then. It has been described as "'Desperate Housewives meets Mamma Mia!" (Applause Magazine), "Part anthem, part confessional and all party!" (Telegram & Gazette), "An infectious, exhilarating sense of intoxication!" (Hollywood Reporter) and "As funny and outrageous as 'Sex and the City'!" (The Advocate). Hilarious and touching, GIRLS NIGHT: THE MUSICAL follows five friends in their 30s and 40s during a wild and outrageous girls' night out at a karaoke bar. Friends since their teens, they have all had their fair share of heartache and tragedy, joy and success. Among the characters are Carol the party girl, blunt Anita who tells it like it is, Liza with her marital issues, boring Kate the designated driver, and Sharon, the not-so-angelic angel who just couldn't resist tagging along. Together, they reminisce about their younger days, celebrate their current lives and look to the future, all the while belting out an array of classic anthems such as "I Will Survive," "Lady Marmalade," "It's Raining Men," "Man I Feel Like a Woman," and "Girls Just Want to Have Fun."
British Playwright, Author and Television Producer, Louise Roche has written and produced six other plays including "Girls Night" (UK Tours 2003, '04,'06), "Bobby and Johnny" (UK Tour 2005), "Girls Behind" (UK Tour 2005), "Checkout Girls" (Milton Keynes 2005), "Lucky Balls" (Milton Keynes 2002), and "Milton Keynes The Musical" (2002). Her novel, Glutton for Punishment, is published in paperback, and her television writing includes "Where The Heart Is," and "Doctors."
Director, Sonya Carter, has been with EEI for 3 years in many roles both on and off stage. She originally performed the role of Liza in the US premier of GIRLS NIGHT: THE MUSICAL in Scottsdale, AZ in May of 2007. After her premier in Girls Night: The Musical, EEI brought Sonya Carter and her 12 years of International Risk Management experience from American Express on board as its production supervisor. In that capacity, she manages all production aspects from casting to closing night for all EEI productions. In addition, she continues to perform in Girls Night: The Musical, performing three of five roles in the show and having amassed over 250 performances on tour and Off-Broadway. Sonya has also directed several of the touring companies of GIRLS NIGHT: THE MUSICAL and originated the role of co-host Janice and directed the world Premiere of "Girl Talk: The Musical" at the DuPont Theater in Wilmington, DE on June 29, 2010. Sonya Carter directed and performed the role of Janice in the Off-Broadway premiere of "Girl Talk: the Musical."
Tickets to GIRLS NIGHT: THE MUSICAL are $30, $35 and $42* with a 10% discount available to members of The Hanover Theatre, groups of 10 or more, and WOO Card holders. Tickets are available online at TheHanoverTheatre.org, by phone at 877.571.SHOW (7469), or at The Hanover Theatre box office located at 2 Southbridge Street in downtown Worcester.
About The Hanover Theatre
The Hanover Theatre continues to draw over 170,000 patrons annually with world-class performances and headlining acts including Broadway hits ("Les Misérables," "Mary Poppins," "Jersey Boys"); comedians (Steve Martin, George Carlin, Bill Cosby); musical acts (Neil Young, Aretha Franklin, The Moody Blues, Diana Ross); and everything in between ("A Christmas Carol," Maya Angelou, Rudy Giuliani, "Alvin Ailey American Dance Theatre"). Ranked by POLLSTAR as one of the Top 50 Theatres in the World, the theatre opened in March of 2008 following a $32 million historic renovation. Over the last six seasons, the theatre has established its place as a world-class performing arts venue, acting as a catalyst for the economic development of downtown Worcester. For more information, visit TheHanoverTheatre.org. Worcester Center for the Performing Arts, a registered not-for-profit 501(c)(3) organization, owns and operates The Hanover Theatre for the Performing Arts. All donations are tax deductible to the fullest extent allowed by law.
About Entertainment Events, Inc.
Entertainment Events, Inc. (Producer) is based in New York City. EEI has made its mark on the theatrical touring industry by offering a variety of new and exciting plays and musicals to an ever growing list of professional presenting organizations throughout the country. In addition, EEI has performed over 1500 fundraising events for schools, church groups, and private parties. EEI brings all aspects of producing under one roof: sales, production, casting, creative and technical. EEI productions have been produced and presented in all 50 states as well as in Canada, Europe, Australia and Asia. Since 1999 EEI has produced; "Late Nite Catechism: The Series," "Maybe Baby," "It's You," "The Yiddish Are Coming," "Shout! The Mod Musical," "Tony N Tina's Wedding," "Defending the Caveman," "We're Still Hot! The Musical" and are former producers of Jeanie Linders' "Menopause The Musical." EEI is now proud to present "Girls Night: The Musical," "Late Nite Catechism," "Sister Strikes Again!: Late Nite Catechism 2," "'Til Death Do Us Part: Late Nite Catechism 3," "Sister's Christmas Catechism: The Mystery of the Magi's Gold," "Sister's Easter Catechism: Will My Bunny Go To Heaven?," "The Santa Class" and "A Girls Night Musical: Girl Talk!"
*Ticket prices are subject to change without notice.