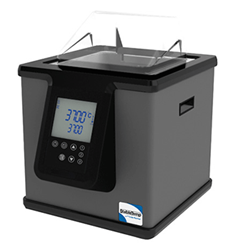 Vernon Hills, IL (PRWEB) June 19, 2014
The new Cole-Parmer® StableTemp® Economical Digital Utility Water Baths combine precise temperature control and excellent temperature stability to provide reliable heating. Despite the economical price point, the digital water baths with lid include sought-after features such as LCD readings in Fahrenheit or Celsius, easy touch-button recall, built-in timer, and high-temperature alarm and safety shutdown.
These laboratory water baths contain dual thermostats: a primary microprocessor-based temperature controller that delivers +/-0.1°C precision and a secondary overtemperature safety to prevent samples from overheating. For optimal temperature accuracy, the primary controller can be calibrated to a reference thermometer.
The seamless stainless steel tank contains no welds to leak or rust—and the rounded corners provide an easy-to-clean interior. A hinged polycarbonate lid allows condensation to flow back into bath.
To view the Cole-Parmer StableTemp Economy Utility Baths, available in 2-L, 5-L, 10-L, 20-L and 28-L reservoir sizes, go to ColeParmer.com/20994 or, for more information, call 800-323-4340.
Cole-Parmer has been a leading global source of laboratory and industrial fluid handling products, instrumentation, equipment, and supplies since 1955. Our product lines, including popular brand names such as Masterflex®, Oakton®, Digi-Sense™, and more, are sold through company-owned customer channel outlets and a strong network of international dealers. We also feature an ISO17025-accredited metrology lab for instrument calibration and repair. Cole-Parmer responds with excellence to customer needs, and offers application expertise and technical support. For more information, contact Cole-Parmer, 625 East Bunker Court, Vernon Hills, IL 60061. In the US, call 800-323-4340. International customers, call 847-549-7600. Visit us at ColeParmer.com.