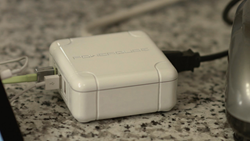 Indianapolis, IN (PRWEB) June 20, 2014
Emerging technology start up, SP Technologies, introduced the new POWERQUBE MINI on Kickstarter.com, a popular crowdfunding website, on June 9th. This travel size version of the POWERQUBE earned well over a third of the funding goal within 48 hours of going live on Kickstarter. The POWERQUBE MINI was developed based on user feedback on the original POWERQUBE, which surpassed the Kickstarter funding goal by 30% in the third quarter of 2013.
The POWERQUBE MINI offers a stylish yet simple design, and can charge up to five devices simultaneously via the two AC outlets and the three USB ports. Each USB port is engineered with patent-pending SP Technology, allowing for independent negotiation with ANY smart device that you plug in; a true smart charger for smart devices. The POWERQUBE MINI is perfect for travel, weighing less than 1.5lbs; less than most tablet devices.
The POWERQUBE MINI is currently available for early purchase via Kickstarter and has over 680 backers. A "Backer" can pledge anywhere from $1 to $350+ toward the project, with a funding goal of $75,000. Kickstarter campaigns operate under an "all-or-nothing" funding model, which means a campaign must meet or exceed the set goal or the project will not be funded. A donation as little as $1 helps move the project one step closer to production.
SP Technologies founders stated:
"We are very excited to bring the POWERQUBE MINI to the market via Kickstarter, and are truly appreciative of the early support. Based on extensive consumer feedback, we found that people need a travel-friendly, total charging solution for their smart devices. We believe that our SP Technology, coupled with the unique travel-size design of the product will give people exactly what they have been missing."
The POWERQUBE MINI will remain on Kickstarter.com until July 10th. Find more information about the product, follow the campaign, or reserve yours, at https://www.kickstarter.com/projects/431346733/powerqube-mini-worlds-smallest-handheld-usb-ac-cha.
About SP Technologies:
SP Technologies, LLC was founded in November 2013, with a focus on creating smart-charging solutions for personal smart devices. SP, or Smart Power, technology focuses on building adaptable charging solutions that work with, not against, all devices and brands. SP Technologies is dedicated to delivering clean, innovative charging devices that meet the demands of today's technology driven world.