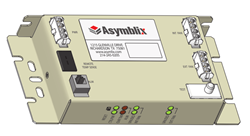 Pioneering New Ways to Improve Management of OSP Cabinet Environmentals
Richardson, TX (PRWEB) June 23, 2014
Asymblix, a leader in outside plant thermal solutions, announces the launch of the new upgrade kit for use in the patented Asymblix 1000 Watt Heat Exchangers. The new kit provides additional air velocity for the inner and outer loop fans leading to an additional 400 watts of the heat dissipation using the existing heat exchanger structure.
Asymblix 1000W heat exchanger has inner and outer loop fan that are thermostatically monitored by the Asymblix standard controller which activates both fans. The new upgrade kit includes the VelociHX controller which is the third generation fan monitoring and speed control platform from Asymblix and has been specifically designed for Asymblix's heat exchangers and retrofit cooling systems. By monitoring interior cabinet air temperature, VelociHX tailors the speed of cooling fans based on thermal load of the OSP cabinet. Reducing the fan speeds to match thermal load allows a major reduction in fan noise and power consumption.
VelociHX locally indicates cooling system status through 8 indication LEDs, immediately pinpointing any problems. Furthermore, RS-232 communications and a standard dry-contact alarm output are available for connecting to any existing upstream site monitoring platform. The VelociHX is microprocessor controlled and monitors all data points over ten times a second.
VelociHX is available for most Asymblix heat exchangers, and already deployed OSP retrofit cooling upgrades, as well as with customized thermal management solutions.
About Asymblix
Based in Richardson, Texas, Asymblix OSP Solutions provides the most comprehensive retrofit cooling systems and legacy remote site upgrade kits that enable telecom service providers to modernize their local delivery infrastructure at minimum cost and time. Asymblix has engineered unique cooling products and total mechanical retrofit kits and upgrades for each specific remote cabinet that has been broadly deployed by Telcos over the last 30 plus years.
For more information visit: http://www.asymblix.com.