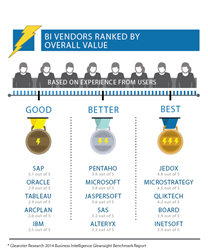 Despite decades of BI solution adoption, we continue to see lots of evolution and traction in the space.
Pleasanton, CA (PRWEB) June 19, 2014
Gleanster Research announces the publication of the brand new 2014 Benchmark Report on Business Intelligence (BI), which provides a comprehensive look at how Top Performing organizations embrace business analytics and the continued evolution of the BI technology landscape.
This 50-page Benchmark Report on BI highlights the experiences and intentions of 257 companies and features analyst commentary on 40 BI solution providers. "Despite decades of BI solution adoption, we continue to see lots of evolution and traction in the space. Part of this is due to increased demand for analytics tools from business users in marketing, sales, operations, and finance. This is driving demand for ease of use, agile BI trends, on-demand BI, and mobile access to analytics," says Ian Michiels, Principal Analyst and report author.
Interestingly, only 34% of All Other organizations (compared with 78% of Top Performers) believe BI provides a unique competitive advantage. "Sure, BI 'informs' decisions, but managers are still relying on gut feel," adds Michiels. The report highlights how Top Performing organizations that achieve superior performance in revenue growth, employee productivity, and operating margin justify continued investments in BI. It serves as a benchmark guide for the emerging trends in BI and how Top Performing organizations are mitigating top challenges and measuring success.
This powerful report features vendor reviews of 40 BI vendors, an analyst perspective on each, and vendor rankings based on the experiences of end users. 5000fish (Yurbl), Actuate, ADVIZOR Solutions, Altosoft, arcplan, BIME, Birst, BOARD International, Connotate, Deloitte Managed Analytics, Dimensional Insight, Domo, Entrinsik, GoodData, IBM, iDashboards, InetSoft, Infor, Information Builders, JackBe, Jaspersoft (acquired by TIBCO), Jedox, Kalido (now Magnitude Software), Logi Analytics, Looker, Microsoft, MicroStrategy, Oracle, Panorama Software, Pentaho, PivotLink, Prelytis, QlikTech, Quiterian, SAP, SAS, SiSense, SpagoBI, Sybase, Tableau, TARGIT, TIBCO Software, Vitria, and Yellowfin are covered in the report.
To download the report, visit http://www.gleanster.com/gleansight/2014-business-intelligence.
About Gleanster Research
Gleanster surveys the most effective business leaders on the planet and publishes the findings online so you can emulate their success. Our reports highlight the experiences of Top Performing organizations: why they invest in technology, how they overcome challenges, and how they maximize the value of their investments. For more information, please visit http://www.gleanster.com.