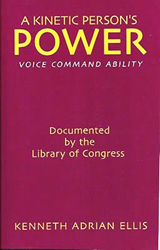 (PRWEB) June 19, 2014
Kinesis occurs when an organism's motion is caused by a stimulant such as light. To be kinetic, is to have the ability to harness the power of kinesis within oneself. Kinetics possess a supernatural ability.
The kinetic talent shown by author Kenneth Adrian Ellis allows him to release tension from his body by voice command. His kinetic ability is stimulated by light and sound. He describes his documented gift in his eye-opening book "A Kinetic Person's Power." The author says that there is no reason to be afraid of this power and adds that some may possess without even knowing.
Watch the Video Trailer at http://www.youtube.com/watch?v=z27xXbYVV9s.
A KINETIC PERSON'S POWER (ISBN: 978-1-60860-216-2) is now available for $9.95 and can be ordered through the publisher's website or at www(dot)amazon(dot)com or www(dot)barnesandnoble(dot)com.
WHOLESALERS: This book is distributed by Ingram Books and other wholesale distributors. Contact your representative with the ISBN for purchase. Wholesale purchase for retailers, universities, libraries, and other organizations is also available through the publisher; please email bookorder(at)aeg-online-store(dot)com.
About the Author: First-time author Kenneth Adrian Ellis lives near Kennesaw, Georgia. He holds a Certificate of Copyright from the Library of Congress for video footage in which he performs his special kinetic power.
Strategic Book Publishing and Rights Co, LLC