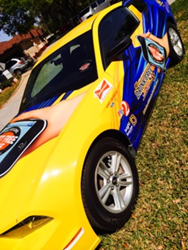 Port Orange, FL (PRWEB) June 18, 2014
With requests from high schools as far away as Miami, the Port Orange based firm of Rue, Ziffra & Caldwell has purchased a $30,000 texting and driving/DUI simulator. The Drink-Free Zone is scheduled to be unveiled on Friday, April 4, at the Daytona Cubs baseball game. Attached to a 2014 Ford Mustang from Gary Yeoman's Ford Lincoln, the simulator will be used to promote the dangers of texting while driving and driving under the influence.
The law firm, which has seen a dramatic increase in the number of accidents caused by distracted driving or drivers under the influence, previously rented a simulator for use in demonstrations at area high schools, according to Jessica Eckelbarger√, the firm's marketing director. She said the two campaigns have been dubbed the "Text-Free Zone" and the "Drink-Free Zone."
"In the past three years, Rue, Ziffra & Caldwell and its partners invested nearly $500,000 in the two campaigns and we've learned a lot of things, including how to make a bigger impact with the simulator," she said. "By purchasing the equipment and having it installed on the Mustang, provided by our partners at Gary Yeoman's, we now are able to reach out to many more drivers throughout our community."
"The millennial generation goes nowhere without their mobile phone. They watch TV, attend school, sleep and of course drive with their mobile phone. That being said, Gary Yeoman's Ford Lincoln is committed to bringing awareness and educating students about the dangers of text and driving as well as keeping their vehicle alcohol free," said Carlos Lira, Dealer Principal at Gary Yeoman's Ford Lincoln.
The sponsors can now offer the two programs anytime they want throughout the year. To continue the awareness, the Mustang, which has been custom wrapped to represent the two campaigns, will be driven throughout Volusia and Flagler counties, Jessica said.
Also joining forces with Rue, Ziffra & Caldwell and Gary Yeoman's Ford Lincoln in the campaign to bring awareness to the dangers of distracted driving, will be WESH 2, Daytona Beverages and Bright House Networks.
According to Jessica, both programs have been so well received at local high schools, with principals and teachers singing their praises, future visits have been rescheduled so even more students can learn first-hand the dangers of distracted driving.
Dennis Neal, principal at Matanzas High School in Palm Coast, said every student who participated in last year's event at his school - including his own son – signed a pledge not to text and drive "I was amazed at our students' reactions to the texting and driving simulator," he said. "I believe it really made them think about their actions behind the wheel and I'm looking forward to having the simulator here again."
After viewing an eye-opening video and using their own cell phones to text during the simulations at Warner Christian Academy in South Daytona, students referred to the experience as a "wake-up call," said Principal Steve Elliott. "It's an in-your-face experience you won't forget easily."
Allan L. Ziffra√, president of the law firm, said even though it became illegal in Florida to text and drive on Oct. 1, 2013, the accidents continue.
"National statistics like 11 teens die every day in an accident involving texting and driving and eight teens die every day in DUI accidents don't lie," he said. "That's why our firm is passionate about the cause and proud to be involved in this campaign. We hope it will save lives by making people think twice before texting while driving or driving intoxicated."
Already, the firm has scheduled the Mustang to be at more than a dozen community events from April to November, with more in the works.
"Our mission is to educate the public on the effects texting and drinking have on driving," Ziffra said. "We hope that people will take this seriously and also take advantage of the opportunity to experience the simulator first-hand."
For more information about either campaign, call 386-788-7700 or visit http://www.rueziffra.com.