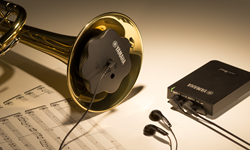 Buena Park, Calif. (PRWEB) June 20, 2014
The Yamaha SILENT Brass™ practice systems for trombone, trumpet, flugelhorn and French horn, introduced at the 2014 NAMM Show, have won three prestigious design awards, including the Red Dot Design Award for Product Design, the iF Product Design Award and the Good Design Gold Award.
The Red Dot Design Award for Product Design is bestowed by Design Zentrum Nordrhein Westfalen and represents an internationally recognized label of quality for excellent design. The SILENT Brass system will be displayed at the Red Dot Design Museum in Essen, Germany beginning July 8, 2014.
The new practice tool also won a 2014 iF Product Design Award in the leisure/lifestyle category after a jury of 49 experts evaluated designs from 55 countries. Awarded by International Forum Design in Hannover, Germany since 1953, the iF Product Design Award recognizes creativity and innovation in design along with functional aspects of the product, including ease of use, quality and environmental friendliness.
In 2013, the Japan Institute of Design gave SILENT Brass a coveted Good Design Award. First handed out in 1957 and now overseen by the Japan Institute for Design Promotion, the award represents a comprehensive program of evaluating and commending designs that "show the quality standard of current society or pioneering the future."
The new Yamaha SILENT Brass systems offer a more comfortable and realistic experience for musicians and have evolved through innovative advances in sound technology and construction. They provide musicians with the ultimate practice tool that allows for musicians to practice while listening to hi-fidelity sound that is only audible to the performer.
The popular SILENT Brass systems have evolved through innovative advances in sound technology and construction. The systems offer a more comfortable and realistic experience than ever before. The smaller, lightweight design of the new pickup mute offers outstanding sound reduction and provides a natural playing feel, stable pitch and overall retention of the instrument's basic playing characteristics. The mute features Brass Resonance Modeling™, a leading-edge technology that delivers superior and realistic brass instrument sound.
-END-
About Yamaha
Yamaha Corporation of America (YCA) is one of the largest subsidiaries of Yamaha Corporation, Japan and offers a full line of award-winning musical instruments, sound reinforcement and home entertainment products to the U.S. market. Products include: Yamaha acoustic, digital and hybrid pianos, portable keyboards, guitars, acoustic and electronic drums, band and orchestral instruments, marching percussion products, synthesizers, professional digital and analog audio equipment, Steinberg recording products and Nexo commercial audio products, as well as AV receivers, amplifiers, Blu-ray/CD players, iPod docking systems, home-theater-in-a-box systems, earphones, headphones, sound bars, and its exclusive line of Digital Sound Projectors. YCA markets innovative, finely crafted technology and entertainment products and musical instruments targeted to the hobbyist, education, worship, professional music, installation and consumer markets.