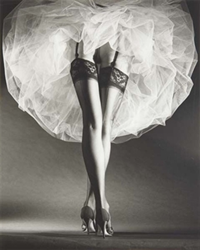 Featuring bothrare platinum prints and gelatin silver prints in varying sizes, works in the sale have estimates ranging from US$8,000 to 60,000.
New York / Berlin (PRWEB) June 18, 2014
artnet Auctions is thrilled to present iconic fashion, classic still life, and elegant nude photographs by fashion photography master Horst P. Horst (American/German, 1906–1999). Featuring both rare platinum prints and gelatin silver prints in varying sizes, works in the sale have estimates ranging from US$8,000 to 60,000.
Horst's legendary career began in 1931, when his first fashion photographs appeared in French Vogue. He continued to work for Vogue for 60 years, producing some of the most celebrated pictures of the 20th century, such as Mainbocher Corset, Paris (1939) and Round the Clock I, New York (1987). The sale also features portraits of prominent female figures from the fashion industry, including the iconic Coco Chanel, Paris (1937), and numerous images of his favorite model Lisa Fonssagrives-Penn. Tracing fashion trends through the decades, the sale includes a stylized, Art Deco Helen Bennett with Cape, Paris (1936), Nina de Voogh, New York (1951), Park Avenue Fashion, New York (1962), and the classic Chanel Beauty Treatment, New York (1987), among others.
The sale also highlights several of Horst's nude photographs. In works such as Barefoot Beauty, New York (1941), Horst isolates parts of the human form to construct stylized images, which verge on the surreal. In the series Odalisque (1943) and American Nude (1982), as well as in numerous male nude images, he employs the entire human figure, in all its sculptural elegance, with his distinct, classical style.
Horst's elegant still lifes are also featured in the sale. Although famous as a fashion photographer, Horst's work with still subjects demonstrates his versatility as an artist. Horst not only subtly sexualizes a flower's form, as seen in Single Calla Lily (1941) and Eva with Rose (1988), but he also breathes life into inanimate objects, as is revealed in the photograph Classical Still Life (1937).
Horst Unlaced: Beyond the Corset is live on artnet Auctions from June 17 through 26, 2014, and is on view at http://www.artnet.com/auctions/search/?q=keyword-horst_2014-category-all-artworks-active-auctions-only/.
Register to bid on artnet Auctions: https://www.artnet.com/auctions/register-to-bid
View all lots: http://www.artnet.com/auctions/all-artworks/
For more information about this sale, please contact artnet Auctions specialist:
Susanna Wenniger
Senior Specialist, Photographs
+1-212-497-9700 ext. 172
swenniger@artnet.com
About Us:
artnet is the leading online resource for the international art market. Established in 1989, artnet provides reliable information and market transparency to art collectors. With our comprehensive suite of products, artnet can empower anyone with a passion for art.
With 24/7 worldwide bidding, artnet Auctions & Private Sales is a dynamic marketplace for collecting art. Our online auction platform provides a unique collecting experience with seamless flow between consigners, specialists, and collectors. Our auctions and private sales community influences new collectors and inspires everyone to collect art.