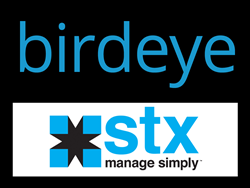 BirdEye opens the door for proactive management of online reviews, enabling our clients to further boost their visibility and generate additional leads
Sunnyvale, CA (PRWEB) June 19, 2014
STX Software LLC, the salon and spa industry's premiere name in management software, announced today that it has selected BirdEye as its Reputation Management partner. With BirdEye, STX users can proactively manage their reputation — see all their online reviews in one place, generate new reviews from guests, manage customer feedback, and automatically promote positive reviews on social media, search engines, 100+ directories and local sites.
Many STX clients are already benefiting from the BirdEye platform. Shep Studio in Provo, Utah has seen a 35% increase in total reviews and 4000+ online visitors in just 4 months of use.
"BirdEye opens the door for proactive management of online reviews, enabling our clients to further boost their visibility and generate additional leads," said Jeff Mason, President of STX Software. "BirdEye's reputation management system is best-in-class, fitting nicely with STX Software's 30-plus years of experience offering elegant, easy-to-use products to salons and spas. We're excited to introduce and promote BirdEye to all our salon and spa clients."
It is crucial for salons and spas to build and promote a positive online reputation. Almost three-quarters of all consumers trust online reviews as much as they do personal recommendations (source: Search Engine Journal), and personal recommendations are the number one driver of consumer purchase decisions (source: Forbes). BirdEye allows salons and spas to tap directly into what their guests are saying on leading review sites. Most importantly, salons and spas are able to take control of their reputation via email or SMS outreach, respond to reviews, and share them on social networks and search engines.
"STX is an innovative and beautifully designed salon and spa management system. And the STX Software team is a group of industry veterans, highly trusted by the top salons nationwide," said Mike Martello, Head of Partnerships at BirdEye. "We are pleased they have selected BirdEye as their reputation management partner. Together we'll integrate BirdEye with the STX platform, offering a seamless experience to thousands of salon and spa owners."
About BirdEye
BirdEye (birdeye.com) is a leader in Business Reputation Management (BRM). The BirdEye platform allows businesses to amplify their reputation to get more word-of-mouth referrals, leads, and repeat clients. Businesses can monitor reviews from all major sites, gain new reviews, manage customer feedback, and automatically promote their good reputation across the web, social media, and search engines. The BirdEye platform powers 500K+ businesses and 6M reviews. Based in Sunnyvale, CA, BirdEye was founded by alumni from Yahoo, Google, Amazon and Cisco.
For more information, contact William Moeller
william(at)bazaarify(dot)com | 408.457.1348 | 800.561.3357 | http://birdeye.com