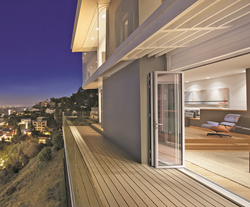 San Francisco (PRWEB) June 19, 2014
NanaWall Systems will be exhibiting in booth #953 at the Dwell on Design (DOD) show in Los Angeles, June 20 - 22, 2014. As the industry leader in opening glass wall systems for more than 25 years, NanaWall Systems revolutionizes the category once again with the introduction of FoldFlat, a proprietary technology that will change the way architects, builders and designers maximize the living space of a room and NanaWellness, a high-tech solution for managing indoor air quality.
"At Dwell on Design, we will highlight some of our latest opening glass wall innovations," says Ebrahim Nana, CEO of NanaWall Systems. "We are proud to participate in one of the largest home design tradeshows in America where we'll continue to connect with the most influential designers and architects in the industry."
On June 21st, NanaWall Systems will participate in the popular Dwell Modern Home Tour (East Side – Silver Lake/Hollywood Hills) which allow design seekers to immerse themselves in unique homes specifically selected by Dwell magazine editors. These homes reflect the rich diversity of livable, innovative and modern architecture and design that can be found throughout the Los Angeles area.
A highlight of the home tour is the stunning Lecam Residence in the Hollywood Hills. Designed by renowned architect Vianney Boutry, this home features nearly a dozen NanaWall panels offering expansive views of Los Angeles and the Pacific Ocean.
Dwell on Design will be held at the Los Angeles Convention Center in downtown Los Angeles. For more information, visit http://www.dwellondesign.com.
About Nanawall Systems
With 25 years of experience and more than a million opening glass panels installed worldwide, NanaWall Systems is the industry leader, trusted by architects, design professionals and homeowners. Providing precision engineered opening glass wall systems, the NanaWall product line offers countless style options, unsurpassed durability and superior performance—all based on a foundation of rigorous testing, research and innovation.
NanaWall Systems is located in the San Francisco Bay Area, with 22 showroom and design studio locations across North America. NanaWall Systems is the exclusive North American partner of Solarlux Germany, the world leader in operable glass wall technology. For more information, visit nanawall.com or call 800-873-5673.
About Dwell On Design
Dwell on Design has become America's largest modern interior design event, with more than 30,000 designers and consumers expected to attend the 2014 show. More than 400 national and international home design exhibitors will be participating in the three-day event that highlights new products and design projects, as well as speeches and presentations by leading architects, artists, editors and designers.