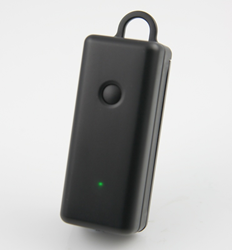 Our beacon devices are highly configurable and upgradeable. In addition, it is the first Beacon device in the market with both Bluetooth and FCC (USA) certifications
Ottawa, Canada (PRWEB) June 19, 2014
Purple Forge today announced its partnership with Red Bear Company as the supplier of Beacons for its award-winning Mobile Venue Solution (MVS). The Purple Forge MVS is a cloud-hosted mobile application service tailored for venue operators looking to engage their retail customers. The Purple Forge MVS supports all major smartphone platforms, including the Apple iPhone and leading Android devices. In conjunction with Red Bear Companies' Beacons, Purple Forge's MVS proximity-based marketing features will allow venue operators and their tenants to deliver engaging, context-relevant information, special offers and innovative traffic-generating contests to customers.
"We are delighted with Purple Forge's vision in recognizing the future of Beacon technology in the retail sector; Red Bear is very proud to be a part of it. Our beacon devices are highly configurable and upgradeable. In addition, it is the first Beacon device in the market with both Bluetooth and FCC (USA) certifications," said Chi-Hung Ma the CEO of Red Bear Company Limited.
Red Bear Companies' Beacons have a long battery life and are easy to configure, manage and deploy, making them the "go-to" low cost devices for venue operators looking to capitalize on the proximity-based marketing capabilities of the Purple Forge MVS.
"Purple Forge's proven MVS offers comprehensive location and proximity based marketing services for venue operators, which can increase customer traffic and sales," states Brian Hurley, CEO of Purple Forge. "In partnering with Red Bear Company, we are now able to include the best-of-breed Beacon device support as part of our service."
Purple Forge is a leading provider of mobile applications services to venue operators, municipalities and associations. Purple Forge has deployed hundreds of mobile applications to customers, including the St. Laurent Centre, Norfolk General Hospital and cities such as Ottawa, Vancouver, Calgary, Buffalo and Long Beach.
Venue operators and retailers are encouraged to contact Purple Forge at sales(at)purpleforge(dot)com to understand how the Purple Forge MVS can help increase visitor experience, increase traffic and increase sales.
About Purple Forge
Purple Forge sells subscription based services to organizations looking to engage their stakeholders using the latest mobile application technology and leveraging community engagement and social networking best practices. Purple Forge's award winning mobile applications allow organizations to broadcast, share, and receive feedback from their target audience real-time, allowing them to foster long-term, engaged relationships.
Contact: John Craig, john(dot)craig(at)purpleforge(dot)com