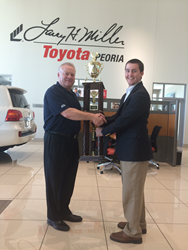 I'm looking forward to the future sales from this crazy week...My team did amazing.
Phoenix, AZ (PRWEB) June 19, 2014
Two Phoenix dealerships are coming off their biggest sales weeks ever. And all it took was a little head-to-head competition in the form of a Car Wars Grudge Match.
On average, Larry H. Miller's Toyota Peoria and the Van Tuyl Group's Midway Nissan request around 80 - 100 customer appointments during a normal week, securing about a quarter of those.
But during last week's inaugural Car Wars Grudge Match, the two dealerships not only saw a spike in requested appointments, but also enjoyed a stark jump in secured appointments. With no new training or an increase in ad spending, they requested an average of 600 appointments each, securing an close to 400 appointments. That's over 25x their typical number of booked appointments and a success rate of 67 percent!
Car Wars is a competitive scoreboard call-tracking platform that puts dealers in head-to-head battles to be better on the phone and drive more sales. During the weeklong Grudge Match, Car Wars pitted these two rival teams against each other to put their phone skills on the line. Weeks leading up to the match were full of high-stake bets and preparation for each team. Teams and individual sales people earned points by doing great things on the phone, from requesting the appointment to calling back missed opportunities.
LHM edged out VT by Owning the Phones all week long and bringing some seriously innovative strategies to the table. One salesman at LHM even cold called a McDonald's and asked the manager if there were any employees interested in buying a car. He ended up getting the manager to submit a credit application, and he got approved to buy a car.
"Car Wars is a great system and a great tool. I'm looking forward to the future sales from this crazy week...My team did amazing," LHM general manager Jay Carley proudly said.
But even Midway Nissan, who ultimately lost the match, brought in some impressive numbers. They were picking more than 600 calls within a few rings, when just the week before they were only picking up around 200. They also followed up on soft appointments 4x more than they had the week prior. That's a huge improvement to their commitment on the phone.
Cody Smith at Midway Nissan grabbed the MVP title of the entire match. Smith set the standard on the phones, bringing in the most individual points and even came in on his off days to help his team. His hard work earned him a Caribbean trip for two.
Both dealerships are seeing serious results, and will continue to see them for weeks to come all because of a little friendly competition. Grudge Match is proof that the quickest, easiest way for any dealership to increase their bottom line is to simply get better on the phone.
Want to compete in Grudge Match II? Go to the Grudge Match page now to enter your dealership and your rival.