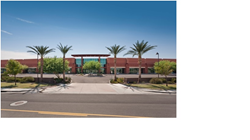 "It's an exciting time at Black Diamond", says Justin Dyster VP of Engineering and Business Development.
Chandler, AZ (PRWEB) June 19, 2014
Black Diamond Advanced Technology, LLC is working in its new facility in Chandler, AZ. The new 25,000-square-foot facility has significantly increased the amount of workspace which was greatly needed to support product line expansion and R&D efforts.
"It's an exciting time at Black Diamond. This year has seen us expand our tactical software applications with the release of our new Forward Air Control Utility Suite. We've also improved the tactical computing capabilities of our Modular Tactical System (MTS), so it's been a busy year of improvements and this certainly falls in that category," says Justin Dyster, Vice President of Engineering and Business Development.
The added space will also allow for the in-house manufacturing of new products that support Black Diamond tactical computing solutions to include the new Radio Power Wedge, a unique power management device that allows for multiple radios to be powered from a single power source that's interoperable with industry leading radio communication systems. It also increases the in-house production capabilities of core MTS components and radio cables to integrate with a variety of industry leading peripherals, radios and receivers.
About Black Diamond Advanced Technology, LLC
Black Diamond is the leader in wearable, tactical technology for C4ISR, Digitally Aided Close Air Support, UAS Ground Control Stations and Explosive Ordnance Disposal applications with programs of record in the US Air Force, US Marine Corp, the Air National Guard, Australian Army Fires Land 17 Program, and the Danish Army Fires Program DALO for Close Air Support systems. The Black Diamond MTS solution includes a ruggedized mobile computer, an integrated communications platform, peripheral controller and power management system.
Our phone numbers are the same but our address has changed. Please update your records with our new address: 2301 E. Yeager Drive, Suite 8, Chandler, AZ 85286.
You can also visit http://www.bdatech.com for a look at our new website or email us at bdat-marketing(at)bdatech(dot)com for more information.