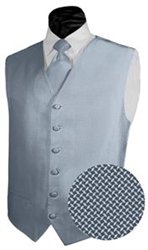 (PRWEB) June 20, 2014
Summer is here and that means weddings. Grooms and groomsmen want to look their best in summer's most popular styles, and TuxedosOnline is helping by pinpointing this summer's biggest trend. Destination weddings are trending, so styles that best fit this tropical setting are extremely popular.
TuxedosOnline's CEO Vrej Grigorian elaborates, "Destination weddings are usually set in tropical venues, so the wedding party will be dressed for the warm environment, without a coat and with a vest instead." Styles such as the Kiwi Tuxedo Vest and Neck Tie are extremely popular. By wearing a vest instead of a coat, the wedding party can stay cool while looking sharp. Vests can even be purchased in colors that match the bridesmaids' dresses.
"This is another trend we've noticed," Grigorian continues. "With so many groomsmen wearing vests, this is a new way of adding color to men's outfits. Many couples choose to outfit groomsmen in vests that match the bridesmaid's dresses." TuxedosOnline has noticed its French Blue Vest and Necktie is extremely popular this season. This delicate shade of blue is always a popular choice for a couple's wedding colors.
Even though these colored vests are selling fast, overall the most popular style this season is an earth-toned vest, worn with either gray or tan dress pants. These neutral shades go well with any wedding colors.
Anyone who needs a wedding consultant's advice or who would like to take advantage of an exclusive discount offer from TuxedosOnline should complete the Wedding Tuxedos Consultation Request form on TuxedosOnline's website. The groom's tuxedo is free when a wedding party of five or more buys their tuxedos from TuxedosOnline.com. Additional details can be found on the site.