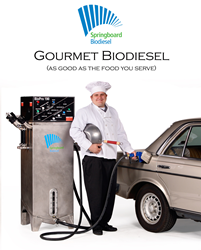 We're hoping this offer will spur more restaurant owners to think beyond the traditional business of food. This change is easy and the benefits are well-documented.
Chico, CA. (PRWEB) June 30, 2014
Clean-tech equipment manufacturer Springboard Biodiesel has declared July "Green Restaurant Month" and is offering $1000 cash back to any restaurant in the US that decides to make biodiesel from used cooking oil in a BioPro™ appliance.
"Any restaurant that chooses to convert its used cooking oil into biodiesel fuel in a BioPro™ biodiesel processor," reports the manufacturer's website "will save money and benefit from its green marketing to customers."
Springboard Biodiesel's CEO Mark Roberts explains, "Making biodiesel out of used cooking oil is not only profitable, it is possibly the single 'greenest' step a restaurant can take to improve air quality and reduce CO2 output."
"We make an automated appliance that enables any business that cooks for large groups of people to convert their used cooking oil into premium grade fuel for 95 cents per gallon. Currently, the National average price of diesel hovers around $4.00 per gallon and will go higher. The fuel made in a BioPro™ runs in any diesel engine and costs one-quarter of the price."
Over the last 6 years, Springboard Biodiesel has built a strong reputation within the green dining movement and is endorsed by the Green Restaurant Association, a national non-profit organization that assists member restaurants to become more environmentally responsible. The company also earned a prestigious "Kitchen Innovations" award from the National Restaurant Association in May of 2012 for the release of it's BioPro™ EX.
With more than 950 units operating in 24 countries and in all 50 states, the company has enabled many restaurants and breweries, both small and high profile, to make cleaner burning fuel from waste oil.
Why is making biodiesel from used cooking oil "green"? The California Air Resources Board issued a report stating biodiesel made from used cooking oil emits approximately 90% less CO2 and 50% less particulate matter than regular diesel when it is burned in a diesel engine. Many other studies have weighed in confirming that biodiesel emissions are significantly less toxic than those of diesel emissions.
"I've been a board member of the California Restaurant Association for many years," reports Sam Manolakos, a restaurant owner in Sacramento who owns a BioPro™ biodiesel processor. "And I don't know why more restaurants aren't doing this. I'm making a cleaner-burning fuel in my BioPro™, running it in my delivery van, and it's costing me about a buck a gallon."
Roberts adds, "We're hoping that this offer will spur more restaurant owners to think beyond the traditional business of food. This change is easy and the benefits are well-documented."
About Springboard Biodiesel:
Springboard Biodiesel is a clean-tech biodiesel equipment manufacturer based in Chico, CA. For six years, the compay has been manufacturing and selling small-scale biodiesel processing equipment, under the brand names BioPro™ and SpringPro™, to institutions and businesses that have access to used (or virgin) vegetable or animal oils. Springboard's appliances enable the production of ASTM-D6751 grade biodiesel for a fraction of the cost of the regular diesel it replaces.
With the help of a grant from the California Energy Commission, the company opened a biodiesel production facility on May 1, 2014. The facility produces biodiesel from locally collected used cooking oil, for sale to local diesel and biodiesel users.