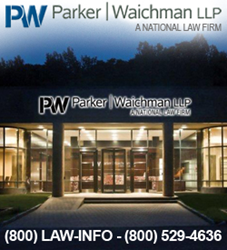 Port Washington, New York (PRWEB) June 24, 2014
Parker Waichman LLP, a national law firm dedicated to protecting the rights of consumers, notes that in the continuing ignition key debacle, car maker, General Motors, just announced a recall of 3.16 million midsize and large cars. The recall has been implemented to modify ignition keys and follows a previous recall of 2.19 million United States small cars earlier this year. The previously recalled vehicles' defect has been associated with 13 deaths and 54 accidents. The most recent recall has been associated with eight accidents and six injuries, according to a June 17, 2014 report by USA Today.
According to GM, the switches involved in the most recent recall received approval from now-terminated GM engineer, Ray DeGiorgio. DeGiorgio also oversaw the switches involved in the prior recall, the USA Today report indicated. This new recall involves a different ignition switch and a different fix, according to GM Spokesman, Alan Adler, according to a CNN report dated June 16, 2014.
Based in Detroit, Michigan, GM has been the focus of increasing controversy and has been faulted by safety and consumer advocates for the way in which the carmaker has handled the matter. In fact, Congress, the U.S. Securities and Exchange Commission (SEC), and the U.S. Department of Justice, as well as a number of state governments and even GM, have initiated probes into how the car maker handled the faulty switches, an issue that GM engineers have allegedly been aware of since 2001, according to Parker Waichman LLP and a number of news outlets, including USA Today and Reuters (USA Today, April 24, 2014: Reuters, April 9, 2014)
Should the key carry extra weight and become jarred, the ignition switch involved in the recalled 2000 to 2014 model vehicles may switch out of the "run" position, which disables the engine and airbags. This is the same problem seen in cars involved in the prior recall, noted USA Today. Individuals who own the recalled Cobalt must receive a replacement ignition switch; however, individuals impacted in this recent recall do not require an ignition switch replacement, but do need to receive the key insert that will close the slot, leaving a small hole for the key ring, the CNN report indicated.
GM has no plans of replacing the entire ignition switch in this recall and will, rather, utilize an insert that fills a slot on the head of the key, leaving a small hole for a key ring. According to GM, this will reduce the leverage placed on the key, making it difficult for the switch to rotate out of the "run" position should the vehicle hit a hole or railroad tracks or experience an otherwise "jarring road event." Until car owners are able to receive the repair, GM indicated that everything should be removed from the key, according to USA Today. GM announced five other, smaller recalls for an array of issues that involve 165,770 U.S. vehicles, bringing the total to 44 recalls involving 17.73 million U.S. vehicles. If recalls involving other countries are included, 20 million vehicles are involved.
When consumers have purchased a vehicle that has been recalled, consumers may be entitled to some type of remedy or compensation. Should the defect that led to the recall be associated with an accident, injury, or death, compensation may be greater than simply taking the vehicle in for a repair, Parker Waichman LLP notes.
The latest recall, stated GM, "follows a review of ignition issues following the recall in February of 2.6 million Chevrolet Cobalts and other small cars" globally. Meanwhile, GM CEO, Mary Barra, will be testifying at a House subcommittee concerning the original initial switch defect. "This latest recall raises even more questions about just how pervasive safety problems are at GM," said Energy and Commerce Committee Chairman Fred Upton, (Republican-Michigan), USA Today reported. "Has the company identified all potential problems? And has GM taken all necessary actions to fix the issues? We look to get answers directly from GM CEO Mary Barra and internal investigator Anton Valukas," Upton added. According to USA Today, the Valukas report discusses a "pattern of incompetence" at GM that led Barra to fire 15 GM lawyers and engineers, including DeGiorgio. Barra described Valukas' report as being "brutally tough and deeply troubling."
"Parker Waichman LLP is troubled by the matter involving the allegedly defective ignition switches associated with GM vehicles and is available to offer free lawsuit consultations to consumers who have purchased GM vehicles that were manufactured with a defective ignition switch," said Gary Falkowitz, Managing Attorney at Parker Waichman LLP.
For more information, please visit the firm's GM Ignition Recall page at yourlawyer.com. Free case evaluations are also available by calling 1(800) LAW-INFO (1-800-529-4636)