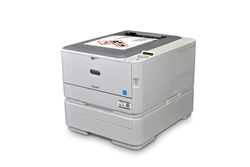 Portland, Oregon (PRWEB) June 24, 2014
The DuraLabel Catalyst was designed to create full-color industrial labels including GHS/HazCom 2012, arc flash, NFPA, and standard OSHA-compliant warning and danger signs.
Graphic Products received the certification from the worldwide authority on supply chain identification testing, Smithers Pira. Compliance testing parameters included seawater immersion, accelerated artificial weathering, sand abrasion, artificial salt spray and sunlight exposure.
BS 5609 compliance is specifically required by European Union (EU) labeling regulations such as CLP and REACH, along with many other national and international standards for marine labeling and shipping. Because BS 5609 is such a highly regarded standard for label durability, it is often used for any application where containment, storage and transportation of materials must be clearly and safely identified, especially with regard to GHS HazCom 2012 compliance.
Catalyst provides a user-friendly solution for the 43 million workers required by OSHA to comply with the new GHS/HazCom labeling standards by 2015. Typically, to make a GHS/HazCom label, workers must pull data from Safety Data Sheets (SDS) and put information into a very specific format using appropriate chemical symbols…or risk severe fines.
DuraSuite software, bundled with Catalyst, includes templates for easy formatting, an extensive symbol library, and a robust chemical database. Users enter chemical names, then select a label size. The database populates the labels with necessary information, correctly formatted and print-ready. Special die-cut label sheets are available in several sizes so that a variety of labels can be printed. Catalyst includes two supply trays so plain paper can also be used for general purpose and administrative tasks.
Features:

5 year warranty
Dual tray system for multiple jobs
Shipped with four starter toner cartridges
Accommodates custom label sheet sizes and standard paper
Includes 25 sheets per pack
1200 x 600 resolution
Energy Star certified for energy saving performance
LED lamp technology cures the toner while printing. No drying time. Apply labels immediately.
With more than 50 unique labeling supplies, Graphic Products, Inc. is equipped to provide visual communication solutions in the industrial safety arena -- providing the right label material for nearly every type of application including arc flash, pipe marking, facility safety, mining, food processing and construction.