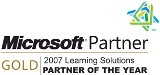 New York City, NY (PRWEB) July 02, 2014
NetCom Learning, IT and business training leader, will offer a free webinar on Microsoft SharePoint 2013: Store, Sync and Share on Wednesday, July 9, 2014 from 1:00 to 2:00 PM EST. The webinar will be lead by Microsoft Technical Specialist and Microsoft Certified Trainer, Shane Snipes. The complimentary webinar will provide tips on fully utilizing SharePoint 2013 functions that help improve productivity across an organization.
"The complimentary webinar on the Store, Sync and Share capabilities of Microsoft's SharePoint's software application will introduce attendees to how these functions can make work more efficient and improve organization's bottom line," said Russell Sarder, CEO of NetCom Learning.
Microsoft SharePoint was developed by Microsoft in 2001 as a web application framework software. SharePoint provides capabilities such as content and document management, sharing and collaboration across the Intranet, web, extranet on an enterprise wide basis. The application works seamlessly with software within the Microsoft Office suite of products.
In this session, we will cover:

Store, sync and share in SharePoint 2013
MCSA and MCSE Certification Overview
Q&A with Shane
Featured Speaker:
Shane Snipes is the featured speaker for the free webinar on Microsoft SharePoint 2013: Store, Sync and Share. Shane is a Microsoft Certified Trainer and Subject Matter Expert at NetCom Learning. He has more than 19 years of experience in the IT industry where he advises senior executives and managers on communication, technology planning, and social strategies.
Shane is also the Managing Partner of ThatMatters, a tech consultancy, and Chief Digital Officer at Good Business Network. In addition, Shane moderates panels at technical conferences, and trains both small and large groups. He assisted in the training launch of Microsoft Server 2008 R2, Office 2007, Office for Mac, SharePoint 2013, MDOP, and Office 365 and he serves as an adviser for Good-B, Microsoft, Best Buy, HP, NYC.gov and several municipalities.
Prior to his consulting Shane served as senior internet officer at Environmental Defense Fund, chief technology officer for Citizen Schools - an after-school program in Boston and the Fund for Public Interest Research. He has taught technology at the College of Charleston, and the City University of Seattle in addition to working with NetCom Learning. courses. Shane Snipes is a Fulbright Scholar, holds a MBA from Vytautas Magnus University, a BS in Engineering & Communication from North Carolina State University, and is pursuing a doctorate in Leadership from Prescott College.
This event includes a sneak peek at NetCom's acclaimed hands-on training program: SharePoint 2013 (Also offered via Live Online delivery).
Sign up today for the complimentary webinar Microsoft SharePoint 2013: Store, Sync and Share.
Benefits of taking technical training with NetCom Learning:
NetCom Learning is the most trusted name in both business and IT training and offers top notch instructors with an average of 16 years of experience and vendor approved coursework offering certification preparation for a variety of vendor certifications. NetCom Learning instructors routinely achieve high ratings from their students and possess an average of 20.5 years of experience and a cumulative average of more than 10,500 years' experience in the field of their expertise. Instructors carry an average instructor evaluation of 8.6 out of 9, one of the highest instructor evaluations in the industry. The high quality of training has resulted in over 2,150 testimonials and a 96% customer satisfaction rate with those customers indicating they would recommend NetCom Learning to others.
About NetCom Learning:
NetCom Learning is an innovative leader in IT, business and executive training to companies, individuals, and government agencies. Since its inception in 1998, NetCom Learning has trained over 71 percent of the Fortune 100, serviced over 50,000 business customers, and advanced the skills of more than 81,000 professionals through hands-on, expert-led training, with the organization maintaining an average instructor evaluation score of 8.6 out of 9. NetCom Learning was recognized by Microsoft Corporation as its Worldwide Training Partner of the Year and named thrice to Inc. Magazine's list of fastest growing private companies in America. The organization was also recently named to the 2012 Top 20 IT Training Companies by TrainingIndustry.com and was named "Company of the Year" by the American Business Awards.
Like us on Facebook! https://www.facebook.com/netcomlearning.
Follow us on LinkedIn: http://www.linkedin.com/company/netcom-learning
The purpose of NetCom Learning is to promote the values of lifelong learning