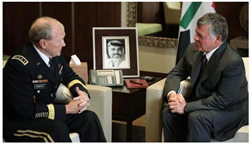 Being situationally aware is part of being a global company.
(PRWEB) June 19, 2014
Commercial aircraft parts distributor First Wave Aerospace navigates through political hot spots in the world as it expands in foreign markets.
The Tulsa-based company is one of the largest independent aerospace distributors in the Americas with 248,000 line items and 6.8 million parts and several of its key new accounts are in foreign markets with high growth potential and a few in areas of political unrest.
"This is part of being a growing Company in the global marketplace and it underscores the need for prayers for peace, geo-political awareness and contingency planning," Tony McAnly, President of First Wave Aerospace, said.
First Wave ended its first year under new management in May 2014 with a new marketing plan that increased sales over 50%. While the largest gains were in North America there were significant new activities with existing and new accounts in the aerospace high-growth areas of Asia and the Middle East, of which certain countries in those regions have recently experienced security threats and civil unrest that could impact tourism and trade.
Glen Hyden, Vice President & General Manager, First Wave Aerospace, who is responsible for the firm's global sales, said he was recently concerned enough about the political unrest near the Iraq-Jordan boarder that he appealed to the firm's home-town US Senator Jim Inhofe and US Rep. Jim Bridenstine to stand firm in US support of Jordan, which is being threatened by the insurgents in Iraq.
"Our independent representative firm for the Middle East is located in Amman, Jordan and while we're of course concerned for the well-being of our colleagues and Customers, we also recognize that Jordan and the US have enjoyed close and stable relations for over 40 years and it's in the best national interest for both countries and the region to have a stable and secure Jordan," Hyden said.
The hot-spot in Asia causing concern is Thailand, which is under martial law since May 22, 2014, which has caused travel warnings and impacted international travel in and out of the country.
Tim White, Vice President Inventory Development, First Wave Aerospace, said this is not unusual for the people of Thailand, but it has caused a disruption of tourism, which impacts the Thai aerospace business.
"This is not the first military takeover in Thailand and the citizens mainly go about their business as usually, but what it impacts the most is tourism, which has a direct correlation on Thai aerospace and our business," White said. "Some of the airlines have reported inbound bookings down by as much as 20%."
While there is civil and political unrest in these two areas of the world, First Wave Aerospace has experienced no disruption in business from Jordan yet and the decline in Thailand has been offset with gains in The Philippines, Singapore and China. However, part of the firm's new marketing plan and philosophy is being situationally aware to make strategic adjustments as required by world events.