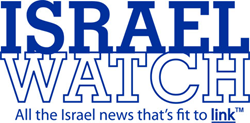 Larry Levine who created the website said, 'I am an avid news junkie, especially when it comes to the Middle East, Israel, as well as Jewish news, and I couldn't find what I was looking for.'
Blacklick Ohio (PRWEB) June 19, 2014
For avid followers of happenings in Israel and the Jewish world. Israel watch is your go to source for up to date news, and commentary. Israelwatch.com based in Columbus Ohio announces the official launch of its website, http://www.israelwatch.com.
Israelwatch.com was created so that all news related to Israel, the Middle East, and Jewish news, could be viewed in one location. Readers will get their daily headlines, important stories as well as be able to search through the page in a user friendly way to find all points of view, opinions and news they find relevant to their understanding of the complex issues. This is not a watered down listing of misinformation to slant opinion. Rather it is a presentation of the best available content to shed light on the facts.
Readers can follow links to original sources. The links lead to news organizations found in Israel, the Palestinian authority, and many other Middle Eastern Countries. All in English.
Larry Levine who created the website said, "I am an avid news junkie, especially when it comes to the Middle East, Israel, as well as Jewish news, and I couldn't find what I was looking for. I also write a column called "No Shabbat Shalom for you" which is a weekly roundup of newsmakers. No Shabbat Shalom for you is my humorous way to make fun of people whom in my opinion warrant inclusion, in the No Shabbat Shalom for you club."
Levine is well-known for his controversial yet well balanced, and researched opinions on all things political, and Middle East. He is a blogger whose column "You are entitled to my opinion," has aroused lovers and haters, but many say that they can't argue with his logic. "I have definite opinions regarding the Middle East," says Levine. "But I wanted to have as many voices as possible. The Hamas site is a great example. I vehemently disagree with them, but having people read what they say sheds light on what they are thinking, and doing."
Levine continues to explain that "facts and information are the greatest tools people can have when it comes to ultimate Peace. Whether or not we see this in our lifetime, political agendas and force fed aphorisms are not the way for a free country to take charge of its political and international future."
Although it contains links to varied information from the Middle East the site is intended to be the place for news on Israel. Levine believes that providing the facts is his contribution to preserving the Jewish People, the Jewish Homeland and to reduce the potential for Anti-Semitism.
For more information, you may contact Larry Levine: Info (at) israelwatch (dot) com.