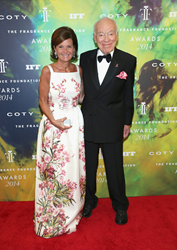 We are delighted to win this award and I thank The Fragrance Foundation for recognizing PASSION's exquisite and sophisticated scent.
New York, NY (PRWEB) June 19, 2014
NEST Fragrances, a leading designer and manufacturer of luxury scented products for the bath, body and home, today announced that The Fragrance Foundation has selected the brand's PASSION Home Fragrance Collection to benefit The Breast Cancer Research Foundation as the recipient of the 2014 award for Interior Scent Collection of the Year. The Fragrance Foundation Awards, which were given out on June 16 at Alice Tully Hall, Lincoln Center, celebrate the global fragrance industry and its outstanding creative achievements in the world of perfumery.
"When my husband and I met with the director of the National Institutes of Health shortly after our son was diagnosed as being severely autistic, he told us that if we could do for autism what Evelyn and Leonard Lauder have done for breast cancer, that would be the highest form of progress," said Laura Slatkin, Founder and CEO of NEST Fragrances and Co-Founder and Board President of New York Collaborates for Autism. "As I began my research, I quickly came to realize that Evelyn Lauder reversed the stigma of breast cancer, impacted science in an unprecedented way, and changed the landscape of modern philanthropy. I created PASSION to honor the memory and the extraordinary achievements of Evelyn, who founded The Breast Cancer Research Foundation, and to thank her loving husband, Leonard, for keeping her legacy alive and continuing her important work. They have both been a tremendous inspiration to me."
PASSION combines the essences of blooming peony and dewy garden roses with warm sandalwood and a hint of flowering pittosporum, Evelyn Lauder's beloved fragrance note. The outer packaging is adorned by a field of blooming pink peony flowers, an original design by Russian artist Alexander Solodukho. "We are delighted to win this award and I thank The Fragrance Foundation for recognizing PASSION's exquisite and sophisticated scent," continued Slatkin. "I would also like to thank the very talented master perfumer Jerome Epinette of Robertet who helped me to develop this fragrance."
PASSION is available in an 8.1 oz. luxury scented candle for $28 (SRP) and a 5.9 fl. oz. reed diffuser for $38 (SRP). PASSION can be purchased at Bergdorf Goodman, Bloomingdale's, Neiman Marcus, and select Nordstrom, Saks Fifth Avenue and specialty boutique stores nationwide, as well as NESTFragrances.com. NEST Fragrances will donate 10-percent of the retail price of each PASSION product purchased to The Breast Cancer Research Foundation.
EDITORS: To obtain product samples and high-resolution images, please contact Tim Rossi (contact information above).
About NEST Fragrances
Founded by renowned fragrance expert Laura Slatkin, NEST Fragrances ("NEST" or the "Company") is a leading lifestyle fragrance brand that designs and manufactures a wide assortment of luxury scented products for the bath, body and home. Featuring a variety of exceptional personal care, home fragrance and fine fragrance collections, NEST combines chic packaging with exquisite fragrances specifically designed to enhance one's everyday living and entertaining experience. Well-known for her impeccable sense of style, Laura Slatkin created NEST for those who aspire to enrich their lives and environments with the essences of luxury, sophistication and beauty through fragrance. NEST products are sold at Bergdorf Goodman, Neiman Marcus, Saks Fifth Avenue, Bloomingdale's, select Nordstrom stores, and a wholesale customer network of more than 1,200 boutique stores across the U.S. The NEST Fine Fragrances Collection for Sephora is sold exclusively at select Sephora stores across the U.S. and Canada and Sephora.com. For more information, visit http://www.nestfragrances.com.
# # #