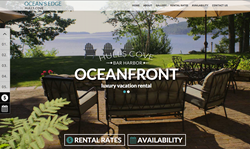 [Brave River] provided outstanding guidance on design and Internet marketing. They were professional and responsive, and worked rapidly to get us up and running.
Warwick, RI (PRWEB) June 19, 2014
Brave River Solutions is pleased to announce the official launch of the new Ocean's Edge Maine website, which features a long-page scrolling design on the homepage. The website was built with responsive design technology, allowing optimal viewing on desktop and mobile devices of all size.
Visitors to the site are treated to large-scale images of the property and its surroundings, and can either scroll or navigate to different sections of the long-page using an abbreviated menu on the left-hand side. Additionally, full subpages are also available for more detailed content, including rental rates and availability, history of the property, and room descriptions. To showcase the rental home's elegant décor and breathtaking vistas, Brave River's web designers created a custom photo gallery, which allows site visitors to scroll through full-sized photographs of the Ocean's Edge property.
"As a travel destination, it's important that our website presents potential guests with a clear depiction of the property. Brave River's web design team understood this need and incorporated it into their design strategy by allowing the photos to speak for themselves," said Jack Dyer of Ocean's Edge Maine.
Dyer turned to Brave River after being unsatisfied by the property's previous web design company. He sought a new website and hosting solution, as well as assistance in marketing the rental property online. "We worked with 3 other web design and development companies over the last year, with disappointing results. Working with Brave River was like night and day compared to our previous experiences; they provided outstanding guidance on design and Internet marketing. They were professional and responsive, and worked rapidly to get us up and running on a very tight timetable. The new site is mobile friendly and does a fabulous job of showcasing our luxury rental property in a truly professional and elegant manner. "
Brave River Solutions was able to use their years of expertise to fully support Ocean's Edge in their online goals. "When we met Jack, he was in a tough spot," said Jim McAssey, Vice President of Brave River Solutions. He needed us to take over hosting of their old site while embarking on a full redesign for a new website. We assembled a team of designers and marketing specialists that worked closely with Ocean's Edge to revamp the way the property was profiled, optimize the content for the search engines, and modernize the site's look and feel. The plan is to continue to improve and enhance the site over time to help Ocean's Edge better market the property nationwide while expanding the rental season."
Brave River Solutions works with clients like Ocean's Edge Maine to establish and meet both long and short-term goals for their web development and IT service projects. By listening carefully to their clients' needs, Brave River is able to transform even failed websites into effective marketing tools.
ABOUT BRAVE RIVER SOLUTIONS:
Located in Warwick, RI, Brave River Solutions is a leading provider of technology solutions, including website design and development, IT support, and technology consulting to businesses in the Providence and Boston areas. Since its inception in 2000, the experts at Brave River have partnered with their clients to create solutions that enhance productivity and efficiency, and improve ROI through state-of-the-art technology. To learn more about Brave River's technology services, please visit http://www.braveriver.com.